As this cornhole season comes to an end, we want to discuss and breakdown your ACL Performance Stats. The ACL cornhole season runs from September to August and if you have played in any ACL tournaments this season, you are probably familiar with the bag tracker. Although it can be frustrating at times to enter the score, it is a very useful tool and really paints a good picture of where you bags are going and how you played.
ACL Bag Tracker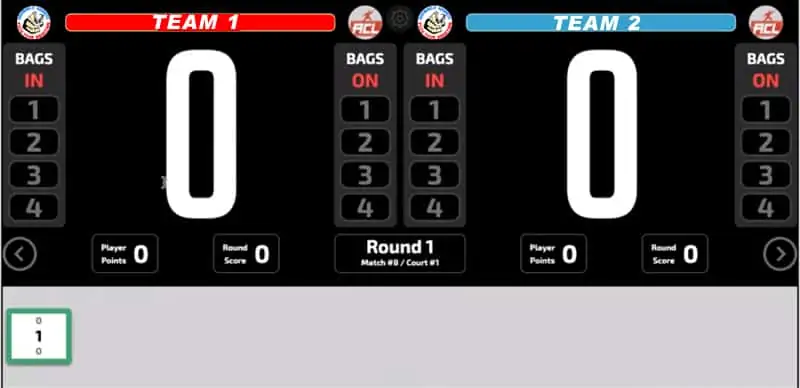 The bag tracker is the scoring system that keeps track of every bag that goes in the hole, on the board and off the board. Using it is quite simple, every round, just select how many bags "IN" and "ON" per player and it will automatically calculate the score. At the end of the game, you will receive stats like shown below. These stats can be very useful to determine how well you are played against an opponent or in general and can be used to keep track of your gains. Take a look at a sample game below to see how the bag tracker showcases your strengths and weaknesses.



Above we can see stats from an actual game, it was a doubles match but we are only showing these 2 players to make things easier. Team 1 on the left won this match 21-10 and you can see each player threw 28 bags for 7 rounds each. While the player on Team 1 has better stats overall, one stats that really tells the story is the "Diff Per Round". This means that every round the player on Team 1 scored 2.29 more points than the player on Team 2. In a singles game, the player on Team 2 doesn't stand a chance but in doubles, if their partner can get a higher differential per round against their opponent, there is a chance of Team 2 winning.
Performance Stats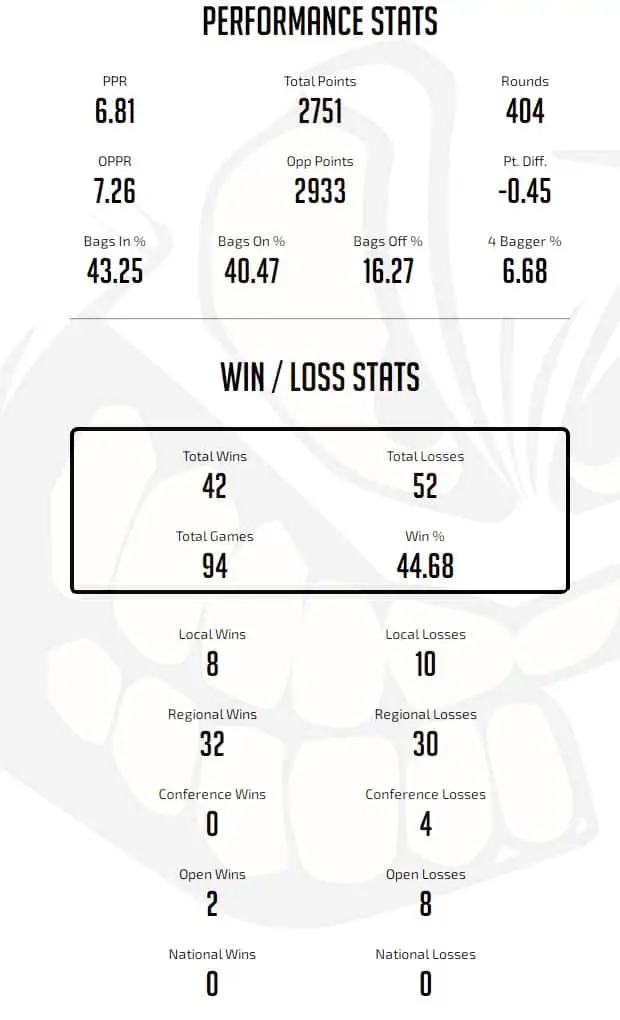 Let's take a moment to break down each section of the performance stats. We chose to use the stats of an average player, to give you something to relate to rather than the stats of a Pro player.
The top section labeled performance stats tells the story about the bags you have thrown in all ACL events where the bag tracker was used. PPR is your Points Per Round and OPPR are your Opponents points. So from the stats above, that person scored an average of 6.81 points every round but their opponent scored higher at 7.26. It is impossible to win games when you are getting every round.
Which takes us to the next 2 performance stats, Total Points and Opponents Points. These are exactly what you would expect to see based on the first 2 stats. After that we have the total amount of rounds played and then the Pt. Diff which is point differential. This means, for each round, you scored an average of X points more or less than your opponent. If the number is positive, it's more and negative is less. You definitely do not want this to be a negative number but if your PPR is lower than your OPPR, it will be.
The final 4 stats to close out the performance stats section are a breakdown of where your bags landed. Here we see 43.25% were in the hole, 40.47% were on the board, 16.27% were off the board. We also see that out of the 43.25% that made their way into the hole, 6.68% of them were 4 baggers. All in all, this player has an 83.72% score percentage which is not bad, they just need to work on getting more in the hole to raise their PPR.
Win/Loss stats are pretty self explanatory, how many games you won and how many you lost. Based of the bag performance stats above, we already know this person lost more games than they won and therefore their win percentage is lower than 50%. The next section breaks down the win/loss stats for Local, Regional, Conference, Open and National events.
---
If you have just started to play competitive cornhole and want to know where you stand, check the valuable information below.
What division do I belong in?
If you are trying to determine what division you belong in when playing ACL events, we recommend doing a Dekaround. Dekaround is a basic skill test where you will throw 10 rounds, 4 bags per round, and total up the score from each round. The player must alternate throwing from each side of the board, this is referred to as going down and back in the same lane.
If the Player throws the first round from the right side of the board, the player will walk down to score, collect the bags and then will throw back down from the left side of the board. The maximum score per round is 12 points and the maximum overall score is 120 points. The suggested Dekaround ranges in the player levels below serve as a guideline to help players self-rate.
Intermediate: Dekaround scores of 0 – 55 points. This player is new to the game or someone who already has a feel for the distance needed to toss the bag, but is erratic in getting the bag to consistently hit and stay on the board. Typically, this level of player is in the beginning stages of developing a consistent throwing motion that can be repeated.
Competitive: Dekaround scores of 56 – 90 points. This player fully understands game strategy, but may struggle with consistency. They are familiar with the different types of shots and knowing when to use them but may struggle with making them. At times this player looks like they can beat anyone, but then in a subsequent game (or frame) can struggle.
Advanced/Pro: Dekaround scores of 91 – 120 points. This player can and wants to compete against anyone. This player can execute sliding the bag, airmailing bags as needed. Player fully understands game strategy and likely plays and practices on a regular basis.
Based on the number above in the Dekaround, we came up with the chart below. Numbers represent your average score per round during game play.
Intermediate: 0-6
Competitive: 6-9
Advanced/Pro: 9-12
So, if you are shooting an average of 10 points per round, during game play, you have no business being in the competitive division! The division you play in is NOT determined by who shows up to a tournament. And playing in a lower division will inflate your performance stats but not help you get to that next level as a player.
Please note that in order to see your personal performance stats, you will need a Platinum Membership. Membership levels can be seen and purchased on the ACL website. If you have numbers similar to or below that player above, you might want to looking into getting some new equipment to practice. We sell boards, bags and trainers to help improve your game. Visit our Pro Shop for Everything Cornhole