If you have followed cornhole for any length of time, you know there is a great group of up and coming young throwers on the horizon. This article is about one in particular, Wylan Hess but our new blog series, entitled After School Baggers, will showcase a couple more giving them the exposure and support they need to continue to grow the game and secure it's future.
You have probably heard of the Gore twins (Twin Terrors), Eian Cripps and Trevor Caballero and his brother Easton but we want to introduce you to some non-pro names that are sure to become well known in the Cornhole world!
Wylan Hess is 13 years old, he hails from Pennsylvania and you can find him playing mostly at The Battleground League, SNS Cornhole, Shine Runners, South Mountain Cornhole and The Smitshow. He got started playing with his cousins and his dad at family functions and he feels the competition at family events have prepared him for what was ahead.
"There are five of us in our home, but only my dad and I throw. I got started throwing with him and some of my uncles and cousins at family get togethers, and they got me interested in throwing competitively."
Wylan gets hooked!
Wylan threw in his first competitive tournament a little over two years ago and the third place finish got him hooked. It didn't take long for the game to take over most of his free time and his dad will attest to how much he has improved. Wylan and his dad throw quite a bit at home, and his dad told me recently that it takes all he has to keep up with him now.
Along with the stiff competition in his family, this young thrower is also blessed with some great tossers in his local area. He most recently got his biggest win with one of the ACL's newest pros, Gage Landis. It was a local tournament that was loaded with around 70 teams filled with some great throwers. They took charge early and topped the stacked field!
Along with Gage, Wylan says that another new pro, Connie Altice, along with pro Matthew Morton, have been huge inspirations to him. "Connie is a phenomenal player that has been a huge role model for me!" (He has the privilege of throwing with and against Connie at a lot of local tournaments)!
"Morton was the main reason I got serious about the game". If I must say, he's got three great role models right there!
Hobbies besides cornhole
When he isn't playing cornhole, he likes chilling at home with his mom Julie, dad Leon and his two sisters, Finley and Marley. And if he isn't watching cornhole, he says football ranks right up there as well. He also loves to go fishing and he used to be a wrestler in school but that is not really a passion of his anymore.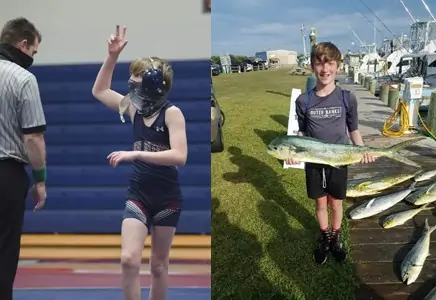 For Wylan, I believe the sky's the limit, and he has some big aspirations in mind.
"I want to make pro status and to win a world championship"
With this young man's talent, hard work and determination, I believe those goals are well within reach in the not too distant future! We here at Cornhole Addicts have taken notice of his hard work and podium finishes and have offered him an opportunity to be a part of TeamAddicts for the 2021/22 cornhole season.
We are happy to be a part of his cornhole journey and want to support him so he can achieve his goal and fill his dream. And how awesome is it to be on the same team as your role model.
Getting to Know Wylan:
Favorite Food – Boneless honey BBQ wings
Favorite Subject – Math
Favorite Sport (Other than cornhole) – Either Football or Wrestling
---
Top Selling Products