To be a successful player, you must have confidence in every bag you throw. You must believe that you can "make the shot". Some where, some how, I have lost that and need to figure out how to get it back.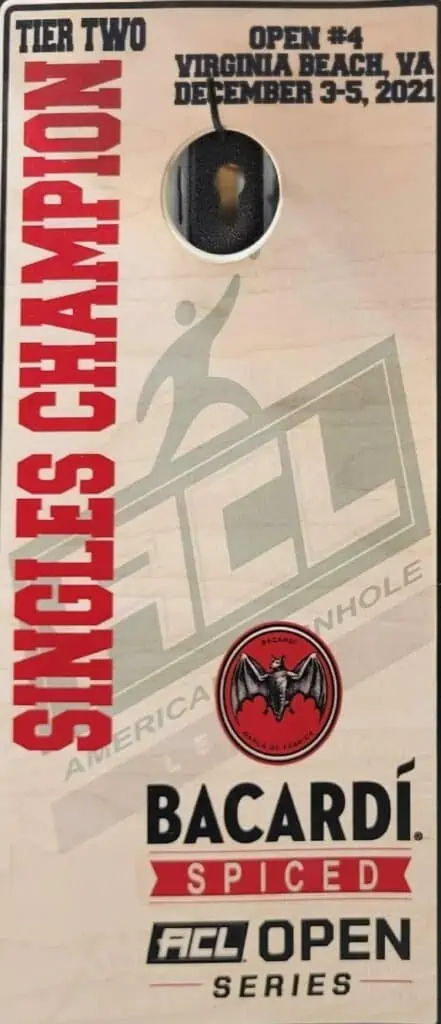 I have always played a messy board game because I had a lot of confidence in my block and airmails, to the point where people noticed and would comment when facing against me. Back in December of 2021, I won Tier 2 Singles at ACL Open #4 in Virginia by playing a game that my opponent hadn't seen all day. A messy board, strategic game of blocks and airmails.
The look of frustration on his face when my first bag would block the clear lane to the hole. A block bag is enough to crumble the many cornhole players today. A couple months after that day, something changed. Not just that I was instantly bumped up to the Advanced division, but the confidence I had in my throw was gone.
My confidence was gone
After returning home from that weekend, I continued to play well for a couple months but then it happened, my confidence was gone and I was in a SLUMP. Struggled to get bags to move up the board and in the hole. I started questioning my throw, my bags, my stance, the way I held the bag, the way my wrist was turned, which foot forward, lean over or stand up straight. Questioned everything! I went back and looked at videos of my games from the Open. How did I top 128 players when I can't even put a bag in the hole now?
After being in a severe slump for months, I tried everything to regain my confidence but when you can't even figure out why you are in it, it's hard to figure out what you need to do to get out. I struggled at league, blind draws and tournaments. People always try to console you and say, you'll find it again, keep throwing. But it's hard to keep positive when you are throwing negative DPR. I am sure many can relate that the game becomes less fun when you are not playing well. I needed to get back to having fun!
Working through a cornhole slump
I took my own advice and read the article on here about how to get out of a cornhole slump. Hmm, get back to basics and practice, ok, easy enough. So that is what I did. I have a buddy that allows me to come to his place while there are under construction and throw bags. It's indoors, air conditioned and I can listen to music. It's the perfect place to put in some work without distraction! So I have been doing that every day for the past month. Started out playing against Ghost 8 which is a great way to practice. I was winning and throwing great.
So then I added 50 Rounds, 200 bags into my practice routine. Throwing bags straight in the hole consistently, 50 rounds at a time, should boost my confidence again, right? I mean, being able to get the bags in the hole is the end result. I did 50 rounds for a week or so and then started doing 2 rounds of 50 for a total of 400 bags a day! After 5 days, 10 rounds, 4000 bags, I averaged a PPR of 8.48. You might be thinking that isn't great but as I mentioned earlier, I am a strategic, messy board player or as some call me, a PPR Killer, with an average in Scoreholio of 7.01.
Then it clicked……
I was chatting with a good friend this morning, one of my mentors in the game ACL Pro Jay Jaiprashad, and he mentioned about me not having confidence, which inspired me to write this. In the process of putting this in words, I may have figured out where my problem is. I am NOT playing my game anymore. I have mentioned it numerous times above and it wasn't clicking. In my attempt to get out of my slump, I changed too much of my game and became more of a player that shoots the hole.
I have always said that I don't want to go bag for bag with the best in the world so I need to figure out a different way to beat them. Which is where the strategy of blocks come into play. In order for me to get back my confidence in my shots, I need to get back to playing MY game. I don't want to just put the bag in the hole. To me, that is boring cornhole.
I love the thinking side of this game. I don't want to give you the opportunity to throw the bag in the hole on an open board. I want to make you think about how you will put it in when there is a blocker bag in the way. Your mistakes earn me points and wins. I need to get back to ME and MY game!
Although my conversation with Jay didn't have the clear advise I needed to get back on track, subliminally it was exactly what I needed to hear!
If you are not familiar with Scoreholio, check it out. Best app for cornhole, PERIOD!!