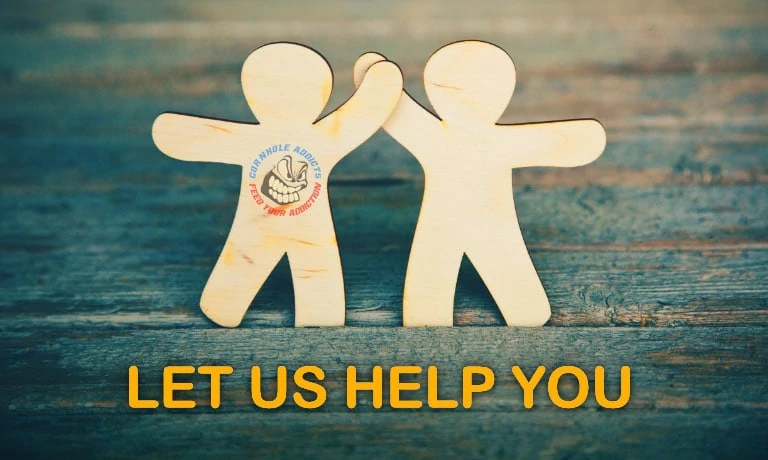 Collaborate and get your logo on apparel
Collaboration Grow The Game!! Cornhole clubs and leagues, how would you like to have your own apparel shop and collaborate with us? We can help you get your own store by putting your logo on t-shirts, hoodies and more! There is no overhead, no need to take pre-orders and keep track of who got what and NO COST to you!! The days of sitting on thousands of dollars of apparel and get stuck with unwanted sizes and colors are OVER! Everything is print on demand and made to order.
You supply the logo and we will create your shop including t-shirts, hoodies, hats, mugs, blankets and more. We will also host and sell your items directly on our website so all you have to do is direct people our way. Plus, we will also provide you with a discount code to share to your club members and keep track of all sales and even give you a little kick-back commission.
Finally, league members can get your logo on shirts and more
Our website is bringing in over 30 – 50k cornhole enthusiasts every month and growing!! Unlike some of these sites you see crashing after a bag drop, our website runs on a state of the art, high performance host that can handle double the traffic so we plan to grow BIG! This is a great opportunity to get your club in front of thousands! Check out the clubs we currently collaborate with!
How is how it works to collaborate with us
1. Fill out our application, link is below, so we can see if you are a good fit for us
2. If you are accepted, we need your logo with the following requirements: 3600 x 3600 pixels canvas size with a 12 x 12 inch print area. 300 DPI, PNG file and transparent background.
3. Using our Direct To Garment service, we will apply your logo on the items listed below.
4. We do everything, host everything on our site and handle all transactions from the payment to making sure the products get in your customers hands.
What you get:
– Your own mini apparel shop featuring your logo on selected apparel listed below
– You earn 20% commissions on all sales from your products only. You will get access to our Vendor Portal to track all sales and earnings.
– Completely hands-free experience, you do nothing. We handle everything from the sale to delivery of products!
– Your own QR code!!
Every vendor receives the same product options listed below with a maximum of 4 colors (We pick colors based on your logo. We try to focus on 3 neutral colors like Black, Blue, Grey and 1 color such as Berry/Pink). Some items are not available in all color options so we are limited to what is available per product.
Below are the listing prices and commission you will earn per item.
(all product listings will have their own size chart)
1. T-Shirt Unisex Bella + Canvas – Available in sizes XS – 5XL
Store Price $26/Commission 20%
2. Long Sleeve Shirt Gildan – Available in sizes S – 4XL
Store Price $34/Commission 20%
3. Hoodie Unisex Heavy Blend Gildan – Available in sizes S – 5XL
Store Price $46/Commission 20%
4. Sleeveless Tank Top Bella + Canvas – Available in sizes S – 2XL
Store Price $32/Commission 20%
(only available in 2 colors, Black and White)
5. Unisex Joggers Jerzees – Available in sizes S – 2XL
Store Price $46/Commission 20%
(only available in 2 colors, Black and Grey)
6. Zip Up Hoodie Unisex Fleece Independent Trading – Available in sizes S – 2XL
Store Price $60/Commission 20%
(only available in 2 colors, Black and White)
7. Classic Dad Hat Snapback (embroidered logo or text if logo is too detailed)
Store Price $27/Commission 20%
If you are ready to collaborate with cornhole addicts, click below!
Click Here to fill out our application
---
What does collaborate mean?
The best way to define collaboration would be when two or more people or organizations working together to complete a task or achieve a goal. In our case, we work together with leagues to help them grow which helps grow the game of cornhole,