Jeff Reynolds
Mid-East Conference

ACL Pro since:
2021



I am ACL Pro Jeff Reynolds from the Mid East Conference and this is my story of becoming a pro player for the American cornhole league. I am also the owner of

Reynolds Bags

.

Let's take a moment to celebrate a true legend in the game – Jeff Reynolds, the man who's changed the way we look at

Cornhole bags

!

It all began when Jeff was just a CDL truck driver, constantly on the road, working tirelessly. He looked at the Cornhole bags available in the market at the time, mostly duck cloth corn bags, and thought to himself, "I can make these better." The catch? He didn't even know how to sew! But here's where the magic happens – his mom, a sewing expert, stepped in to help make his vision a reality.

In 2010, Jeff started making and selling bags locally, no fancy website or marketing, just good old-fashioned passion for the game. He even made the first "carpet bag" around 2012, with a carpet material on the fast side and suede on the slow side. He was on a quest to find something that would perform like a dream even in the evening dew.

When the ACL was just starting out in 2016, allowing players to bring their own bags to tournaments, Jeff's material of choice was discontinued by the manufacturer. He went on a mission to scour every JoAnn Fabrics within a 100-mile radius, but luck wasn't on his side.

But here's where it gets exciting – Jeff stumbled upon the OG Carpet, a game-changer that still stands strong today. It featured a fast side with suede on the slow side, but the initial experiments were a bit of a disaster, with bags falling apart left and right.

However, Jeff wasn't one to give up easily, recognizing the potential in this game-changing material. That determination led to the birth of the Pro Edge Speed, a game-changing Cornhole bag that would revolutionize the entire industry. Which was followed shortly after by the bag still recognized by most today as the first carpet bag, the Pro Advantage!

So, hats off to Jeff Reynolds, the man who turned a simple idea into a Cornhole bag sensation. His dedication to the game and passion for innovation has left an indelible mark on the Cornhole world.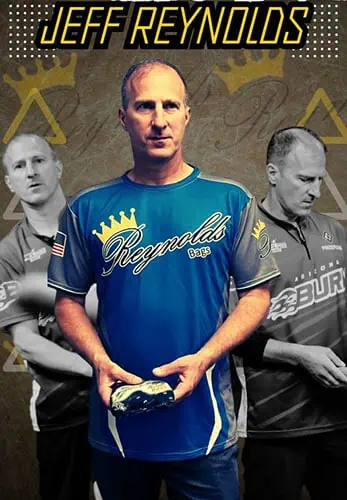 ACL Standings Finishes
Year
Standings
Rank
2023
Pro Singles
56
2023
Pro Doubles
30
Partner – Justin Stranger
2023
Open
287
2022
Pro Singles
74
2022
Pro Doubles
35
Partner – Kevin Allen
2022
Open
87
2021
Pro Singles
52
2021
Pro Doubles
65
Partner – Alan Skotko
2021
Open
202
2020
Open
470
2019
Open
83
ACL Pro Division Stats
| Year | Event | Rounds | PPR | OPPR | DPR | 4 Bag % | In % | On % | Off % | Wins | Losses | Win % |
| --- | --- | --- | --- | --- | --- | --- | --- | --- | --- | --- | --- | --- |
| 2023 | Pro Singles | 446 | 9.72 | 9.37 | 0.34 | 35.43% | 74.16% | 20.46% | 5.38% | 18 | 10 | 64.29% |
| 2023 | Pro Doubles | 189 | 9.50 | 9.30 | 0.20 | 23.81% | 71.30% | 23.54% | 5.16% | 11 | 12 | 47.83% |
| 2022 | Pro Singles | 446 | 9.74 | 9.52 | 0.22 | 32.74% | 73.88% | 21.86% | 4.26% | 16 | 11 | 59.26% |
| 2022 | Pro Doubles | 193 | 9.65 | 9.26 | 0.39 | 29.53% | 73.32% | 21.37% | 5.31% | 12 | 13 | 48.00% |