The ACL Points System for 22/23 Season
If you are like most, you are completely confused with the new 22/23 ACL Points system. We are going to break it down for you so that you know exactly what you need to do to get maximum points this season, even if you are not looking to be a pro. Much of this information can be found in our ACL Players Guide article but it is mixed in with all the other info and we feel this should be separate to make it easier to understand.
Player Divisions
ACL Points are earned based on which event you are attending and also the skill level or division you are competing in. Here are the following divisions the ACL offers, but not all divisions can be found at each event. If there are not enough people registered for any division for that event, you may be forced to play in a higher division but you can never play in a lower division. The skill levels/divisions are as follows: Novice, Intermediate, Competitive, Advanced, Open and Pro. If you would like more information on each level, check out the Players Guide.
Where Can I Get ACL Points?
If you are new to the ACL then you may not be aware of the opportunities to get points. ACL points can only be earned at ACL Events such as Local, Regional, Conference/State Championship and Open events. It is best to check with your local league organizer or director to find out where and when these events will be held in your area. Another great source is to check Facebook. There are also special events specifically for ACL Pro players, but, we are not going to go into those because for this article, we want to focus on you, the average player.
This season, many leagues have jumped onboard with the ACL to run Local events and give their players opportunities to get points regularly and closer to home. Many players will have to travel to attend the bigger events like Regionals, Conferences and Opens. If you have hopes and dreams of becoming an ACL Pro, you need to find and chase the ACL Points!
How Many ACL Points Can I Get This Season?
The maximum amount of ACL points you can get this season is 5,000. Here is the breakdown of the maximum points per event. Once you max out on points for that event, I believe you can still attend but if you win, you will not receive points and robbing someone else of their points.
Local events: 450 points
Regional events: 1,200 points
Conference/State Championship: 800 points
Open events: 1,200 points
Bonus points: 1,000 for your membership and 350 if you attend 50+ ACL events!
Points Breakdown By Event
Much like any point system, the higher division you play in and the higher you place, the more points you will earn. So, look at the charts below based on what division you play in and how many events you think you can attend throughout the season to see what your max can be.
Points Table for Local Events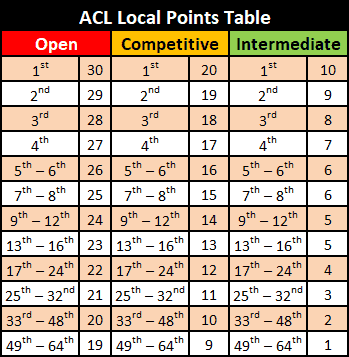 Points Table for Regional Events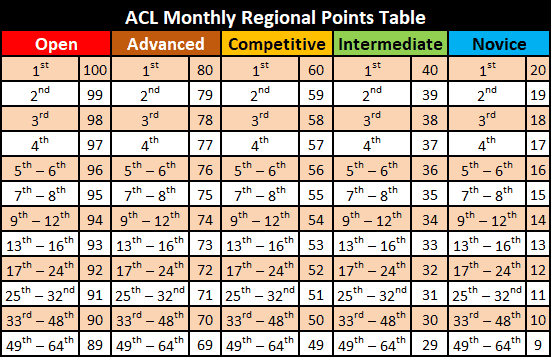 Points Table for Conference Events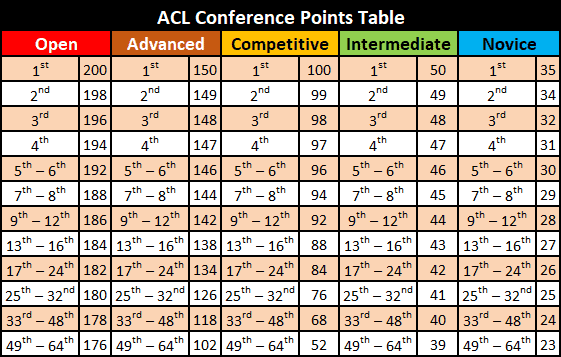 Points Table for Open Events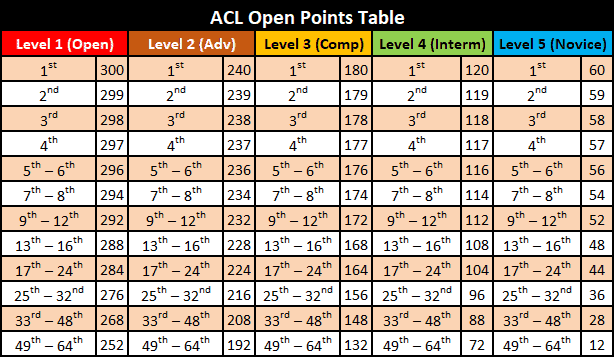 Hopefully this has been helpful in explaining the ACL Points system to you. If you have any questions, you can always reach out to us or the American Cornhole League directly