One question we see asked a lot by beginner players is, which cornhole bag is best? Which brings us to this beginners guide to cornhole bags. Actually, there is no such thing as a "best cornhole bag". I always tell people, the best bag is the one that feels best in your hand, fits your throwing style and goes in the hole more than any other bag, for you!
Some people like and have great results with one bag while others like the super sticky side of a different bag. Thankfully, we are given many choices and have the ability to choose. Cornhole bags are a lot like cars, so many choices and you can pick the one that works best for you. Remember back when it was just a single sided, corn-filled duck cloth bag? How boring.
To help you, the newbie, just moving past the single sided cornhole bags and entering the world of professional cornhole we have come up with this "Beginners Guide to Cornhole Bags". A Pros and Cons look at some of the best bags out there recommended for beginners as well as some popular bags beginners often seek. We also created a page and quiz for Cornhole Bag Recommendations.
Table of Contents
In this beginners guide, we break out Stick & Slick bags, Carpet bags and Speed bags and will let you know which are super sticky and which play super fast. We just want to give you the most information so you can pick the right bag for your playing style, without spending a ton of money.
We have asked a couple top players about which bags they think are best for beginners. Some say the slick and stick while others say go right for the fast bags and learn them. Guess you have to use your own judgement here.
In this beginners guide, we believe that the slick and stick bags are a better choice for you since they will allow you to learn the fundamentals as well as the strategic side of cornhole. Going hole or nothing is boring. You should first learn how to block, push, airmail, etc. Strategy wins games!
Beginners Guide to Cornhole Bags
Stick and Slick Bags
Addiction
The Addiction bag is great for beginners, players with a hard throw or anyone that loves a slow bag! These are slow and very hole friendly. They melt around the hole! Speeds are 2 and 4
Pros: The bag has all the characteristics of the Slide-Rite and slightly slower to give you more control. If you like a nice, hole-friendly slick and stick bag, this is one you need in your arsenal!
Cons: On hot days where the boards become naturally slower, this bag stops dead in it's tracks on the slow side. But you still have a faster side
Best Bag For: Mostly for a beginner looking to gain confidence in their throw. This is a bag you need to check out!
Turtle
The Turtle bag is another great one for beginners. This bag utilizes the same slow side as the Addiction with a faster fast side which allows for easier pushes, bully other bags out of the way or an easier slide on slower boards. Speeds are 2 and 8
Pros: Great bag for beginners and Pros. Great blocker, good pushing of other bags
Cons: Depending on the conditions you are throwing in, when this bag is on stick side it can be hard to move/push and will sometime kick left or right.
Best Bag For: Great all-around bag, preferred by many beginners
---
Carpet Bags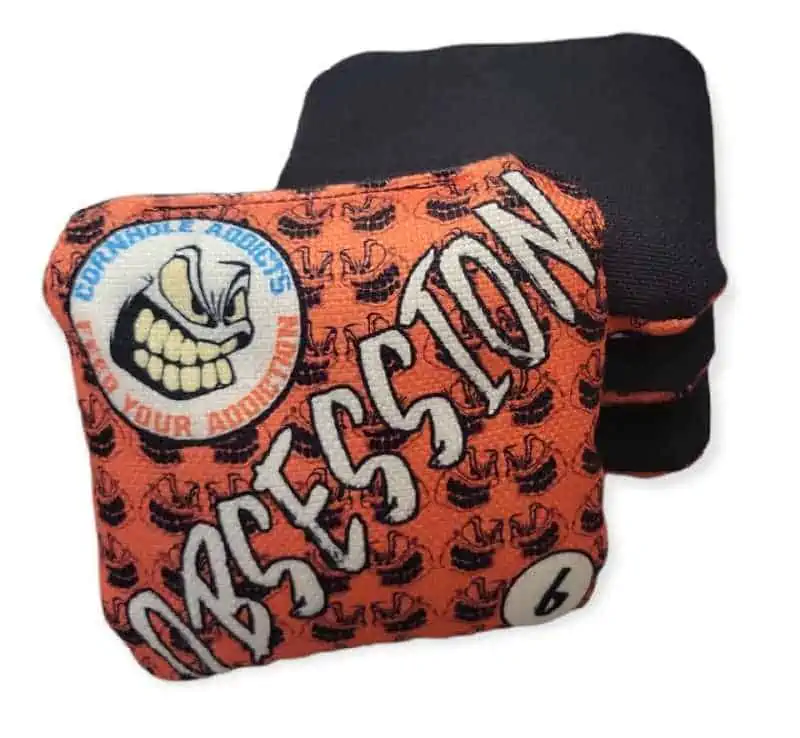 Obsession (Carpet)
The Obsession bags are our first carpet bag. These bags are great for rolls, flops, cuts and whatever other shots you can imagine. Speeds are 4 and 6 and most comparable to a Titan Prowler.
Pros: Bag The stick side of this bag is great for beginners or for hard throwers while the slide side makes it easier for a push shot
Cons: Carpet bags are not for everyone but are the best bags for those that want to hit all the sick shots.
Best Bag For: A player that wants to learn or already know how to throw a roll, cut, flop, etc.
Sandman (Carpet)
The Sandman bags are our newest carpet bag and most compared to the BG Viking. These bags are perfect for players that like to throw sick shots like rolls, cuts, flops, penguin and bar of soap. Speeds are 4 and 7 which is the sweet spot for a carpet bag.
Pros: Performs just like a BG Viking, at a fraction of the cost!
Cons: Only downside of a carpet bag is that they are not for everyone. Some bags will seek the hole, carpet bags need to be put in the hole.
Best Bag For: A player that wants to learn or already know how to throw a roll, cut, flop, etc.
---
Fast Cornhole Bags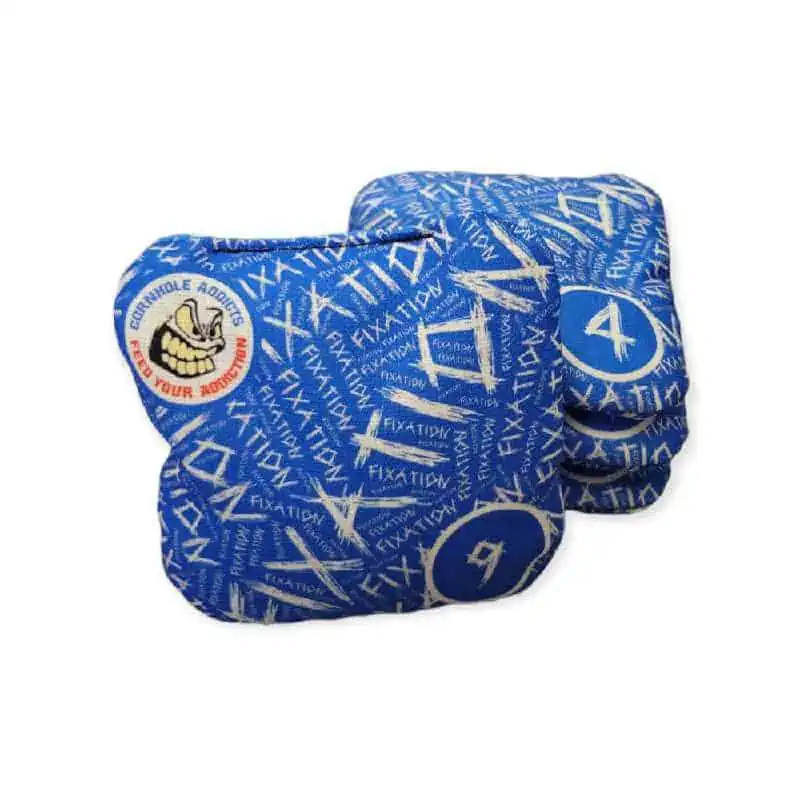 Fixation
Fixation is one of our most popular bags. This is a great all around bag with the perfect speeds that really accent each other. Speeds are 4 and 9
Pros: Versatile, controllable bag that is very hole friendly
Cons: Faster side needs a little breaking in to slow down a bit. A Sac Relax treatment will help loosen it up
Best Bag For: Straight thrower looking to get more in the hole.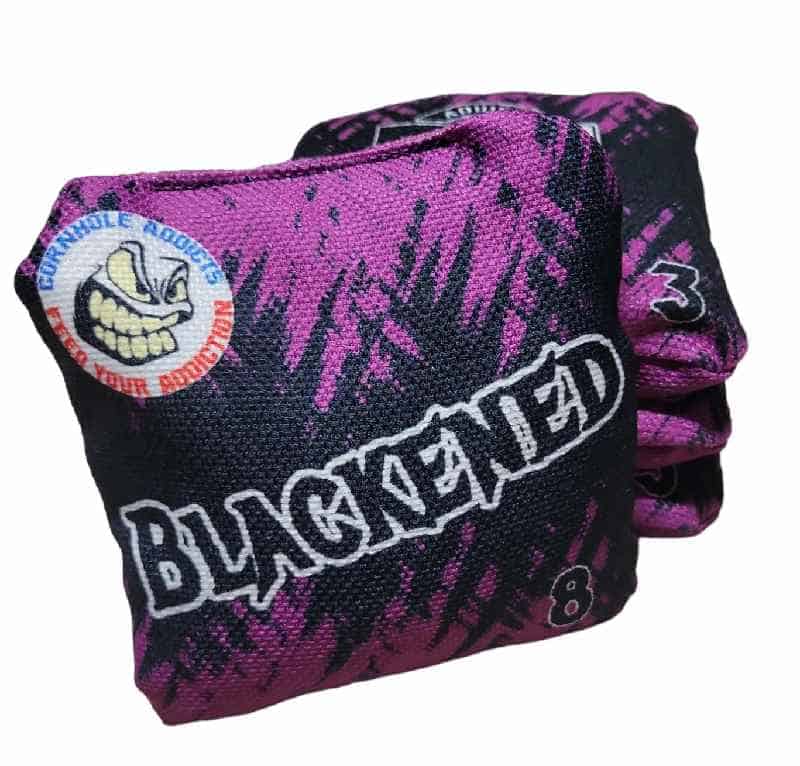 Blackened
Blackened bag feels amazing right out of the box, this is a perfect "starter" bag. Although labeled a 3 and 8 on the speeds, the slower side plays closer to a 4/5 in most conditions.
Pros: Good blocker, VERY hole friendly and feels ready to go right out of the box
Cons: Slick side is fast but not too fast.
Best Bag For: Competitive to Pro playing style with blocks, pushes and board domination.
Whiplash
Whiplash bag utilizes the same fast side as the Blackened coupled with a slower side not used on any of our other bags. This is a great mid-range speed bag coming in at 5 and 8. Most compared to a Titan Scavenger or Reynolds Victory
Pros: Block, push, bully, hole friendly and minimal break in needed
Cons: Can't really think of any Cons for this bag
Best Bag For: Competitive to Pro players.
Hopefully, the information in this beginners guide will be able to help you pick out a bag that fits your playing style. Keep in mind that these are not all of the bags available out there for beginners but they are among the most popular. As your game improves and get stronger, you may want to try out some different bags.
We have many different bags for sale right here on Cornhole Addicts but unfortunately, no way for you to try them. So our suggestion is when you see people at your league or tournament that have some different bag, ask if you can check them out and throw them. Most people would be happy to let you do so.
Be sure to head over to TheCornholeForum and talk everything cornhole