Are you a Cornhole Degenerate?
Your favorite booze is in your hand to calm those nerves and make the long grind more bearable, the money is so close you can smell it and you feel like today it's all for you, and so when you hit a big one you involuntarily let out a primeval scream like an ancient warrior striking down an enemy in battle…blackjack, baby! Wait…what? Am I really going to compare gambling and cornhole? What is it about this game that attracts the same kind of degenerate? [Strike that, editor, let's use "thrill seeker."]
What kind of bad habits can creep into this competitive game if a gambler's mentality isn't kept at bay? Let's explore and get really uncomfortable with one another. Here are three gambler's mentality mistakes that can cost you at the boards.
The more I play, The more I'll win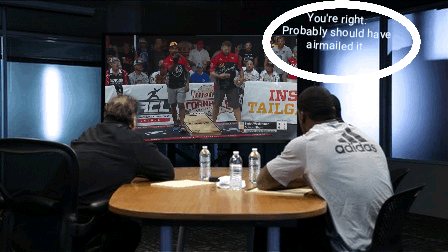 Not if you're playing like that! Yeah, you'll win more, but if we take those L's into consideration–you're floating right around the same old .179 win rate there, buddy. See, I'm not talking about a player deliberately trying to gain situational experience and developing skills with purpose, rather, this is akin to hitting the corner store for scratch tickets twice a day, every day.
This is not a person learning about tells and the math of poker through playing, this is the person waiting and playing all day and night just for pocket aces to appear every 221 hands (and then, of course, slow playing those aces like that's the killa OG move). These cornholers (dare I say, actual Cornhole Addicts) have no focused desire to improve their slide rate, airmail skills, or push shot. They just arbitrarily feel "hot" from time to time and in their minds, need to be ready to capitalize on these self-prophesying streaks.
Tilt tilt tilt 'til you tip over and fall on your face
From the pages of the wide world of wiki:
"Tilt" originated as a poker term for a state of mental or emotional confusion or frustration in which a player adopts a less than optimal strategy, usually resulting in the player becoming over-aggressive.
You ever notice when you miss the hole (to the left, we'll say), yelling out an obscenity often doesn't straighten your shot? You'll just neatly form a row of bags to the left of the hole most of the time. Looks impressive–if you meant to do that, Stephen Q. Urkel. I call those copy cat bags the WTF bags. It's almost like: first bag misses and instead of getting all of the frustration out, breathing and resetting it's W! (miss) T! (miss) F! (miss). You let the tilt get the best of you and you have a crap round instead of just one crap bag.
And that's not all. It doesn't stop at a bad round or bad day for some of you. Some of you take this gambler's mentality all the way and start having horrible weeks! The frustration morphs into something completely uncontrollable. This is when the mental aspect of the game consumes you in the worst way. Don't let this happen to you. If you or someone you love is spiraling out of control, call 1-800-CORNHOLE and remind them that the game is fun.
Ride the highs, bury the lows
This is the worst gambler mistake my cornhole compadres make. My gamble-holic friends will tell you all the stories about how they won this big pot or this big tourney but what do the losing stories sound like? I can't tell you because I've never heard them! They bury them deep. Like the shame of the sheets you tried to burn when you peed the bed, it's just not something you share.
The truth is, though, you need to face these L's. (Celtics fan here, don't shoot me for my next example, he's just the only guy that comes to mind). Kobe Bryant loved watching his failures on film. He saw it as a way to purge the problems and was always excited to become a better player, even if it was one tiny step at a time.
Gamblers don't face their failures. If you leave a Cornhole tournament 0-2 and just brush it off as "Meh, not my day today," rather than trying to figure out what went wrong, you might be suffering from this gambler's mentality.
None of these things are easy to overcome. Taking the proper steps towards proper self coaching starts with acknowledging that you really don't win as much as you think you do. The wins can feel so nice you can ride that high for a long while. But that doesn't mean that the losses never happened! Have a friend or partner help keep you accountable. Record your matches and post them online. Tag a great player, tag a pro you trust and ask them what they think went wrong and what you should improve. That win last summer was nice but…let's start facing these losses so you can have a bunch more Ws. Take that to the bank.