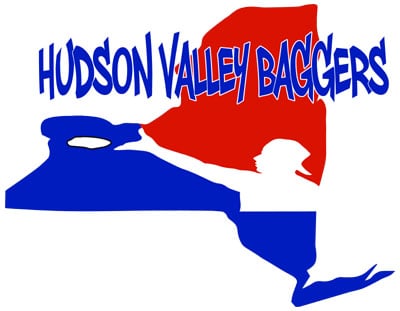 Shop the Hudson Valley Baggers Collection
Shop now for all the latest gear from Hudson Valley Baggers. Everything you need to support your club. Be sure to check out our collection of apparel, bags, boards, etc and support Cornhole Addicts too so we can continue to bring you more great stuff. For more information about this club, scroll down.
---
Hudson Valley Baggers cornhole league promotes the game in a fun, safe, and family friendly environment. Anyone in the Hudson Valley area is welcomed to join the league. Please reach out to us on our Facebook page for more information.
Where we play
The Hudson Valley Baggers play at QB Ball in Middletown, NY and we play on Wednesday nights. Our League Fees are per season and our seasons consist of 10 weeks of play plus 1 week of playoffs. The weekly money that is taken in is used to pay the winners at the end of the season. The registration fees are used to cover the cost of the venue, equipment (boards, bags, score towers, etc) and league administration.
Our league format
The Hudson Valley Baggers League format is different than most other leagues and structured as so. You must attend a min 5 weeks to qualify for playoffs. Each week you will be randomly placed in a group of 4-6 players and alternate partners. Each week you will play 6 games and total points, win or lose are accumulated to determine your ranking for the week and overall. Only your top 5 scores are used to determine your overall standing for season and playoffs. The playoffs will be double elimination and you will be partnered with someone depending on where you seed in the rankings. Cash prizes will be determined at the end of the season.
We run a weekly progressive Money Shot. Each week you can purchase tickets for a chance to throw bags and win cash. Only 1 ticket will be drawn per week. The member with the winning ticket receives 4 chances (bags) to "Air Mail" a bag into the hole from 27 feet away. Each bag that is successfully "Air Mailed" into the hole is worth 25% of the pot. If there are no successful "Air Mails", money rolls over to the following week and therefore progressively can build the pot.
League rules
We play by ACL rules. The cornhole boards are set 27 feet apart from front edge to front edge. The line to throw is the front edge of the board. Players must not go past that line or that bag will be disqualified. Bags can not bounce onto the board. Bags that have rolled or bounced onto the board should be immediately removed so that it does not interfere with subsequent throws.
Bags hanging off the board and touching the ground, do not count. Bags hanging in the hole only count as 1 point. Games are to 21 using cancellation scoring. 3 Points for every bag through the hole and 1 Point for every bag on the board. There is no win by 2 or bust rule for going over 21.
The Hudson Valley Baggers welcome all levels of players whether you are competitive, just a backyard player or want to learn. Cornhole is a great way to have fun with friends and or meet new people! Each week, we mix all levels of players together and randomly place you on a board where you will alternate partners to accumulate your total points for the night. This is also a great way for the more advanced players to help and teach the less experienced with their game play. We all started somewhere!
The Hudson Valley Baggers reserve the right to shorten a season due to the weather or other circumstances.
If you are looking for cornhole bags, boards and everything cornhole, be sure to check out our shop!