West Georgia Cornhole Mach 1 Cornhole Bags
Got my hands on a set of these West Georgia Cornhole Mach 1 cornhole bags due to a printing error in production. They were making a set for a customer of Cornhole Addicts and the printer smeared the ink. They were offered to me at a discount and I have been wanting to try them anyway. I am glad I did. These are actually great bags and I highly recommend them.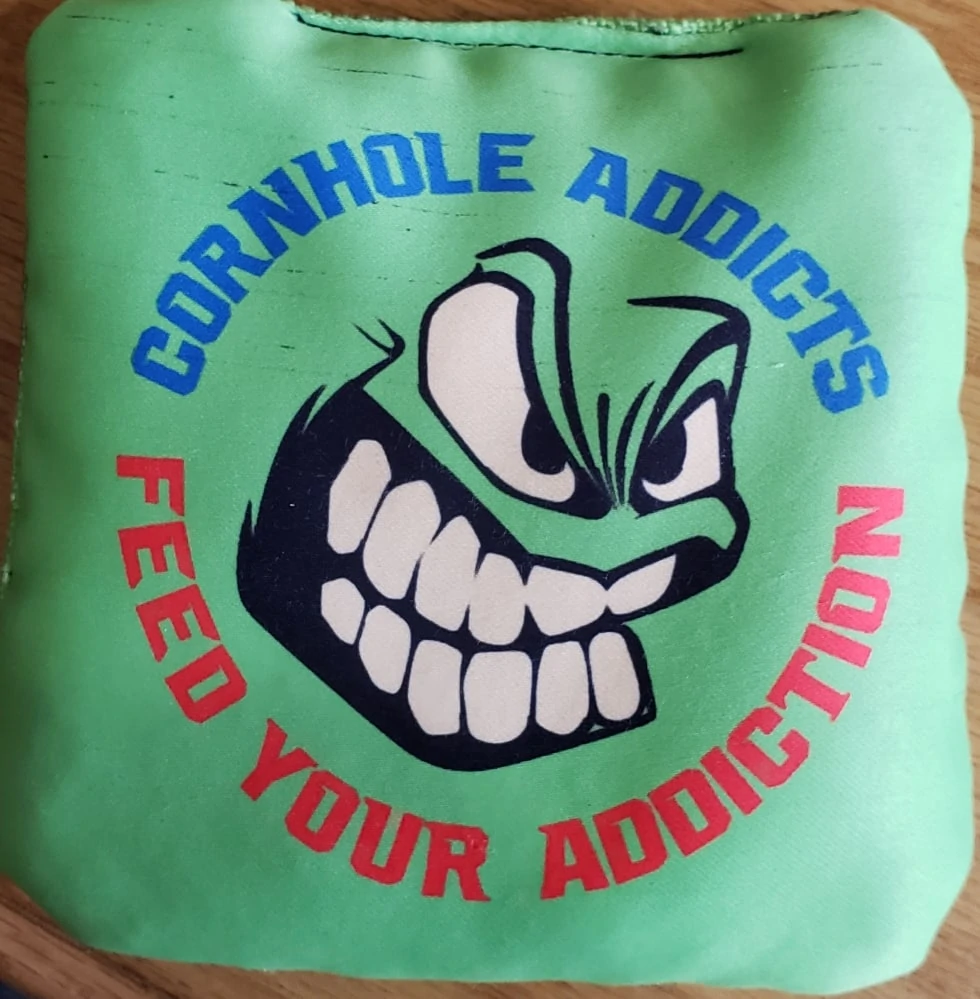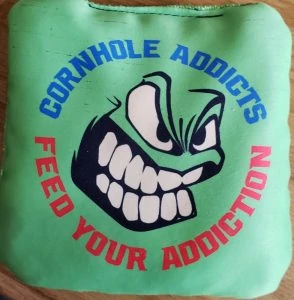 Overall Thoughts of the Mach 1 Cornhole Bags:
Right out of the box I noticed the faster side of the bag is a different material. Kind of reminds me of a silk but they refer to it as a micro knit. Despite its smooth feel, it does not give the bag a crazy amount of slide. The other side of the bag is a grid weave. The Mach 1 cornhole bags have rounded corners, is stitched really well and has a nice small closing stitch.
On the speed scale, the slow side of the bag, grid weave side, is a 4 while the faster side, micro knit side, is an 8. Bag has a flex rating of 9 out of 10 and trust me, it plays that way!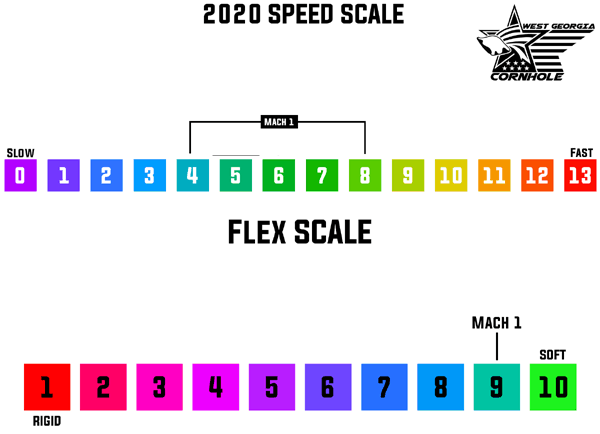 Bag feels great in the hand, comes out of the hand just right and seeks the hole with no problem. I found the slick side, micro knit, to be comparable to the slow side of an All-Slide and the slower side of the bag to be faster than the slow side of a Slide-Rite. All around, the Mach1 cornhole bag offers a great balance of speed and stopping. And when it gets near the hole, it had no problem slinking in.
Bag size is 5 ⅞ square and each bag weighed in at a consistent 16oz. In my opinion, the Mach 1 cornhole bag is perfectly filled for its size with smaller resin beads. The size of bag and fill is great for people that like a full feeling, non sloppy bag.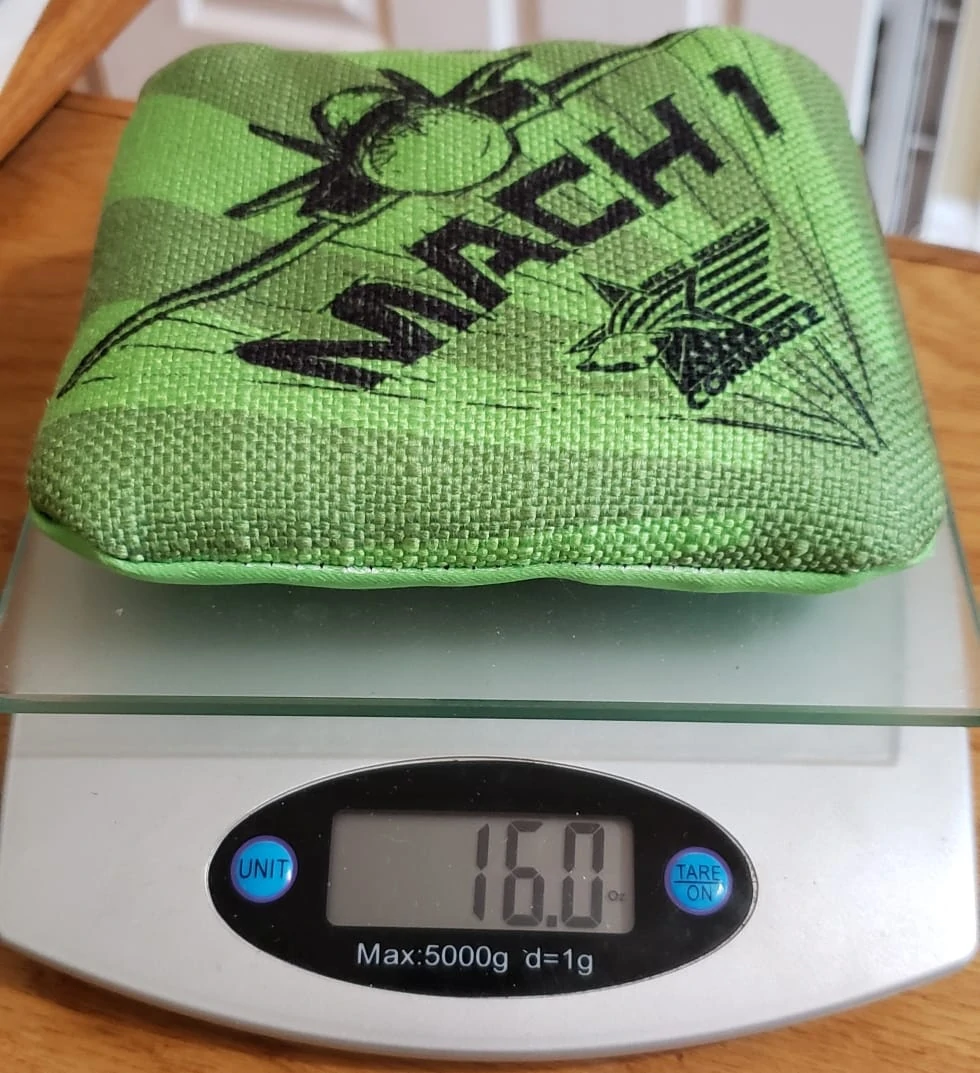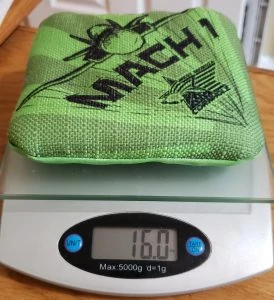 Mach 1 Cornhole Bag Performance Thoughts:
During game play, I found the bag had little to no kick. It landed flat on the board and traveled nicely to the hole. While on the way to the hole, the Mach 1 cornhole bag had no problem utilizing its 16oz weight to push other bags out of the way. The bag is ACL Approved and great for beginners to pros. The more the bag gets broken in, the better they get.
Here is some feedback from the West Georgia website:
* "Had them for about 2 weeks now and the more I use them the better they get. They will slide a bit on the stick side and the slick side is great for pushing or having an open lane"
* "Similar feel to a Slide-Rite but much faster. The Speed Range is tighter than advertised"
* "The flexibility is awesome. Fun to watch them melt into the hole when sitting on the edge"
Be sure to check out our full line of cornhole bags and follow us on Facebook

Here is a demo of the bag in play
[aiovg_video id=47870]