With the holidays coming upon us fast, if you have someone on your list that has a passion for cornhole, here are some great gift ideas.
Cornhole bags make a great gift ideas
There is a good chance your cornhole player already has their own set of bags but as they get used more and more the bags get dirty, can fade or just become worn out. Either way, every player loves to get new bags. But every player has a preference to the bags they like.
So we recommend for you to find out what kind of bags they already have and grab a new set of a similar bag. We offer a huge selection of bags in all different colors and designs. If you need help picking the right set, drop us a line. Below are our best selling cornhole bags but we have many others which can all be found here
Backpacks and Zuca Rolling Carts
All cornhole players have multiple sets of bags and need a way to transport them to and from tournaments. Backpacks and rolling carts are a great way to accomplish that. We offer a couple different options listed below
Gift Cards
We understand that some gifts are a personal thing and there is nothing worse than getting someone the wrong item or even worse, something they do not want or won't use. So we offer the perfect gift, a gift card. Choose your dollar amount and let them pick the perfect set of bags or customize their own jersey. Grab a Cornhole Addicts Gift Card today!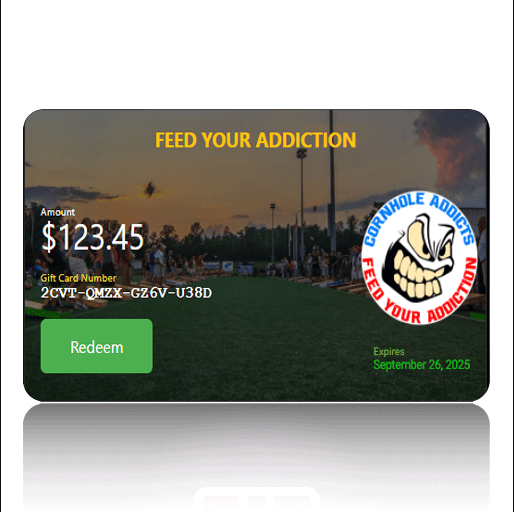 Tumblers, Mugs and More
Drinkware and houseware items make great gift ideas. We have a good selection of items to choose from.
Cornhole boards
You want to see a cornhole players eyes light up, give them a set of professional grade, tournament ready cornhole boards. The boards we sell on this site are the best and sweetest boards because they feature our Cornhole Addicts logo! Below are our regular boards but you can also get them with a blue or black outline or our custom mesh series which is a black board with colored mesh to match our jersey.
Cornhole Board Accessories
Some other great gift idea add-ons for the boards are LED Lights which are great for night time play. Cornhole board carrying case is a great gift idea if they already have a set of boards. A carrying case is not only a great way to keep them safe during transportation but also perfect to use for storing the boards. We have a couple different cases available, but Black and Patriotic are our most popular.
Shirts, Hoodies and More
Short sleeve shirts, long sleeve shirts, hoodies, shorts, hats and more. We have a full line up of apparel
Custom Apparel
Whether you are a great cornhole player or not, you NEED to look good! Our custom jersey is the perfect gift idea for that cornhole enthusiast on your list. Choose their favorite color from the 7 available options, pick their size and customize it with their last name and number or make it real special and put their home league logo! Jerseys can be purchased here along with all of our other shirts and apparel.
Give an ACL Membership
Another great gift, that cannot be purchased through us, is an ACL Membership. This is a great gift idea for any player that plans to play tournaments in the ACL. For more information about the American Cornhole League, the events, the conferences and how to become a member, please visit their website by going to iplayacl.com