THE BEST ACL APPROVED CORNHOLE BAGS

RANDOM PLAYERS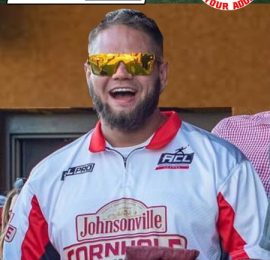 Drew Brown
I am ACL Pro Drew Brown from SouthEast Conference the and this is my story of how I became a professional cornhole player at the American Cornhole League. I grew up playing baseball year round in high school. I was a very aggressive pitcher/3rd baseman and had a passion for winning all my life. During my senior year I contracted mononucleosis and was told by doctors that it was the worst case they had seen in almost 35 years of practice. I went from 155 lbs to 125 lbs in just over a month and they rushed me to the hospital twice within that month to be sure I was getting the right amount of fluids. I also missed my last month of my senior year of high school but I was fortunate enough to be released on the day of graduation and was given the "OK" from doctors to attend the ceremony. After high school I went on to play college ball at Bethany College, but quickly knew I didn't have the strength that I once had. In an effort to focus on my health and devote more to my studies, I transferred to a school closer to home. I needed something to keep my competitive edge going and that is when I turned to cornhole. My cousin, Wes Phillipson, brought boards to our thanksgiving dinner one year and needless to say I was very much a beginner player. He beat me in every game that we played that year and I there was only one way I knew how to respond. PRACTICE. All winter long and through the summer I practiced everyday, even tying the chandelier to the banister with a rope in my mom's house when it was cold out so I could play indoors. I wanted to make sure at the next family function I wouldn't be able to be beat so that I had bragging rights at the dinner table. Sure enough my dedication paid off. So much so that I thought that I was one of the best in the state at that point taking down local tournaments in my hometown. After that I started googling tournaments and I would take my buddies CJ and Jake Blanchard to play cornhole across the state just to play in tournaments. That was when I ran into the unstoppable duo of Matt Guy and Randy Atha in Dublin Ohio at the Irish festival. They beat us 21-0 but I quickly received word on who these two were in the cornhole world. That was who I wanted to be. This is where a new chapter began and my search to become one of the household names in cornhole started. I knew I had a lot of work to do to get where I needed to become one of the best. During one of my google searches, I found a tournament in West Virginia and got introduced to my good friend, Ted Dillon. He is the one that I give a lot of credit to, for he was the first person to take a chance on me as a player and be my partner. It also helped that he ran an abundance of regional tournaments where I slowly started to meet and play against today's most familiar faces. Now after over 10 years of playing against the best in the world, I believe I am ready to prove to everyone that I have what it takes.
Contact
Office

Reynolds Pro Advantages

Email

Hanging out with my girls

Location

Cadiz, OH but moved to Sugar Hill, GA
Haseeb Habiban
SouthEast Conference
I am ACL Pro Haseeb Habiban from the Southeast Conference and this is my story of how I became a professional cornhole player for the ACL. Started in the Finley's yard, won the first time I played and we did it every weekend then we started to venture out and winning most of the time with my wife. It's been about 10 years now and loving this game. Now this great sport is playing overseas and just amazing. The ACL is just awesome!
Contact
Location

Cottontree, Guyana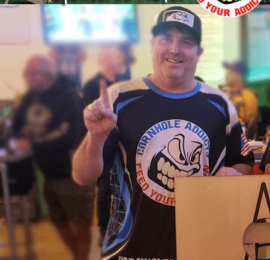 Mark Burgess
NorthEast Conference
I am TeamAddicts Sponsored Player Mark Burgess and this is my story of how I started playing cornhole. Some time in 2018, Derek Coffin called and asked me if I wanted to play some cornhole. There was a bring your own partner tournament that was a fundraiser and little experience, we managed to come in 2nd place. Wicked Cornhole was running a beginners game that was posted on Facebook and  I thought it sounded like a great idea and a good excuse to get out of the house. I had a blast playing and what I really enjoyed were all the people I met. From that point, I was hooked and addicted to the game and the family atmosphere.
Contact
Office

Widow B and Viper C

Email

Snowmobiling and cornhole

Skype

Chicken Chimichanga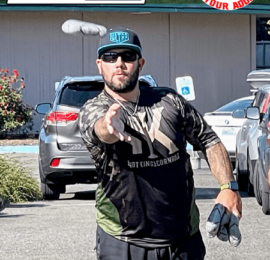 Dean Norton
NorthWest Conference
I am ACL Pro Dean Norton from the Northwest Conference and this is my story of how I became a professional cornhole player for the ACL
The first time a I played cornhole was about 2 years ago in the backyard at my parents house at a family BBQ. I played for hours that day and just was not very good at it. My competitive side took over a little bit and I went out and bought regulation boards and bags. As soon as I got everything in the mail I took a week of vacation off work and I played 7 days straight about 12 hours a day and I was finally able to throw a flat bag. I watched a ton of cornhole videos on you tube and any where else I could find it to try and learn the strategy aspect of the game. I find now that the more I practice the better I continue to get. It has sense took off for me and I am enjoying every minute of it. The people that I have met throughout my travels is honestly the best part.
Contact
Email

Spending time with my wife and 2 little girls Payton and Kimber.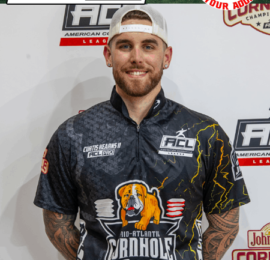 Curtis Kearns II
I am ACL Pro Curtis Kearns II from the Atlantic Conference and this is my story of how I became a professional cornhole player for the American Cornhole League. I started playing back when I was 15 just like most people at backyard BBQ's. From there I ventured into my first blind draw at a local Buffalo Wild Wings at the age of 17 and I got lucky enough to draw a guy named EB Marsh, the best guy in there at the time, and we ended up finishing second. From then on I was in love with the game. I stayed with the local blind draws for the next 6-7 years and never really ventured off and traveled. I had stared to become one of the best in my area so last year I decided to take on the pro circuit and try to make a name for myself across the country. I ended up Finishing 56th overall In the 2018-2019 season. Time to improve on that in seasons to come!
Contact
Email

Hunting, fishing, and cornhole

Location

Fredericksburg, Va
Chris Tornatola
NorthEast Conference
I am ACL Pro Chris Tornatola from the Northeast Conference and this is my story of how I became a professional cornhole player for the American Cornhole League. My friend called me and asked me to meet him out and about. He wanted to show me this new game. Told me I was gonna love it. Had no idea what it was going to turn into.
Contact
Office

All-Slides and Reynolds

Email

Cornhole. Football.

Skype

Chicken Cavatelli Alfredo
Cody Henderson
Mid-East Conference
I am ACL Pro Cody Henderson from the Mid-East Conference and this is my story of how I became a professional cornhole player for the American Cornhole League.