My Experiences Against Elite Players
What is it like playing against players that made it on an ESPN broadcast? Trey Burchfield, Brandon Corwin, Christine Papke, Ken Shaef, Curt Vogel and Brandon Bobilya, what do all these players have in common? They all made it to an ESPN broadcast and on along the way, had to face me on the boards. With Trey and Brandon just winning the Pro Invitational, I figured I would write about my experience and what it is like playing some of the best cornhole players in the game.
So, what is it like?
Well, First, it is just freaking cool. Imagine sitting on your couch and drinking a beer and on ESPN there is two players that you played a month ago, winning it all! I cant think of too many other sports where that happens.
And Second, all the ACL Pros I have met have just been some of the nicest people and they are all committed to growing the sport.
4 baggers, airmails, blocks, push shots, airmail drags, yeah those are all in my repertoire of shots. But so is shooting an airmail and missing the board by two feet (Which is always caused by the wind, even inside by the way, LOL). The level of consistency that these elite level players throw at is truly amazing. I use to watch cornhole on ESPN and think "Hey I can do that." Then I realized that these players do that game after game, day after day, and that 8 point round was an oddity not the norm for them.
Curt Vogel and Brandon Bobilya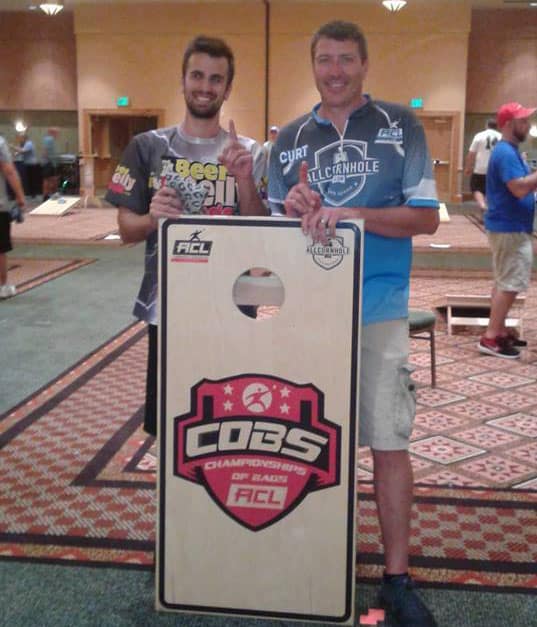 Curt was the first player that I played against that had made it to an ESPN broadcast. I am not going to lie, it was a little imitating playing against him at first. I mean the guy just took second on ESPN and here I am throwing against him in my first regional. Curt and Brandon are two of the most constant "down the middle of the board" throwers that I have played against. I don't see a lot of flashy shots from them. But don't get me wrong, they both have strong airmails. They just don't have to use them often when everything is right down the middle and in the hole.
Christine Papke and Ken Shaef
During my match against Christine Papke and Ken Shaef, I opened the game up with a 4 bagger and Christine threw a 10. BAM, I got 2 points and thought to myself. I got this! Playing Christine and Ken is like a death by a thousand cuts. They will wait till you make a mistake and capitalize. Christine is like a shark who smells blood in the water. A bag off the back, give her some points, missed push shot, give her some points. Ken tends to slow the game, he analyzes his shot, counts the points, and spends some time before he throws to make sure he throws the perfect shot. For a rhythmic thrower who just wants to land four bags on the board, playing a player like Ken, can really mess with your game.
Trey Burchfield and Brandon Corwin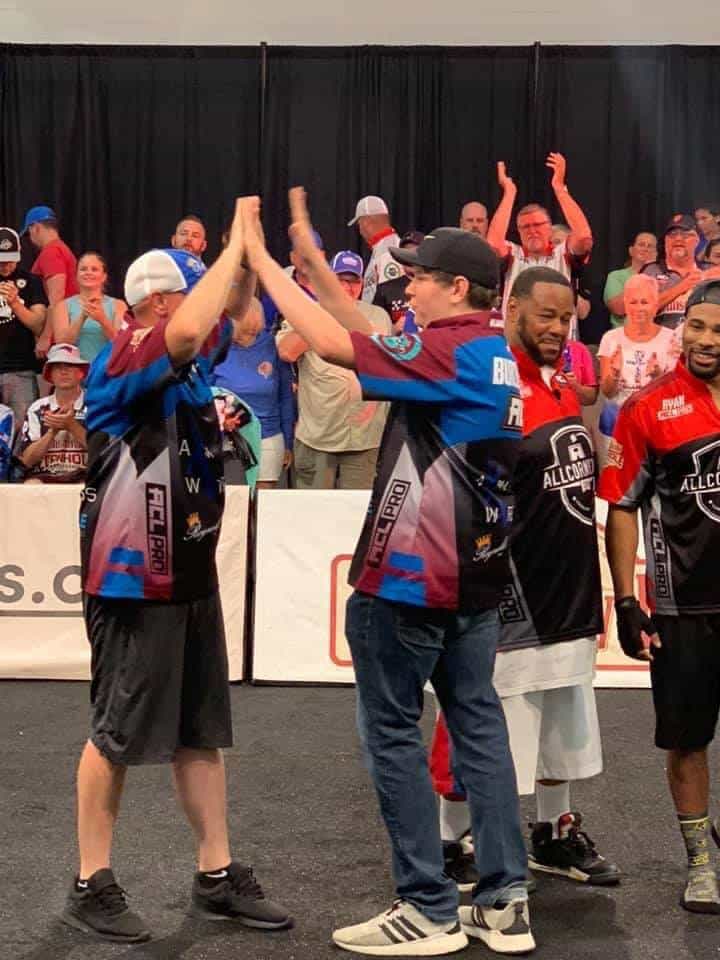 Trey is like a cornholing robot. He stands there, doesn't say much, and makes bag after bag in the hole. Brandon, on the other hand, is the complete opposite. He is up there laughing, joking and giving my partners tips, all while scoring points. The game against Trey and Brandon was the most frustrating game I have ever played because they weren't playing their best, yet, I still couldn't score more than 6 points on them. It was at 10 am at a regional the day after conferences, a long weekend of cornhole. I don't know anything more frustrating, than having just to put a bag on the board for a point and throwing the next one short for a wash.
Experiences like these is what makes the game of cornhole so much fun for me. It's crazy how we get these opportunities to play against elite level players one minute and then we see and root for them on national television a few weeks later. Knowing that, if I continue to improve and throw my best bags possible, who knows, maybe you guys will see me on TV someday. Anyone can play, Anyone can win!