Dual Aces Cornhole Bags by Cornhole Ace
We got out hands on these Dual Aces cornhole bags by CornholeAce before they are released and we wanted to share our first impression with you. These are a dual sided fast and faster type cornhole bag with a speed rating of 6 and 10 and is ACL Pro Approved for this 2020/21 season. They don't have the ACL Pro stamp on them yet but will shortly. As an ACL Pro Approved bag, that means this bag can be used by anyone.
Many of the fast and faster bags we come across don't distinguish which side is fast and which is faster so I love how CornholeAce took the guess work out of it. At first glance, the only difference that I noticed was the hole in the spade was filling with a solid white but after further inspection you will also notice a flame on the faster side. So the solid white circle is the slow side of the bag and the flame under the ACE is the faster side.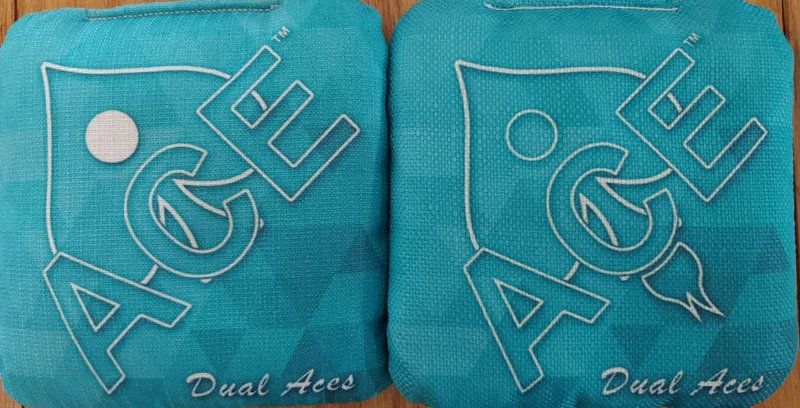 These bags are approx 5 .75 x 5.75 and have the perfect fill to size ratio to give them that loose, hole friendly feel. Each bag weighed a consistent 16 oz. Seams of the bag are stitched tight and the corners are tucked just right to give them their perfectly rounded appearance. The closing stitch is small and tight with no loose thread. I have checked out and wrote about many bags and I am highly impressed with the Dual Aces cornhole bag overall. Great job CornholeAce. Can't wait to bring these to the next blind draw and get some feedback.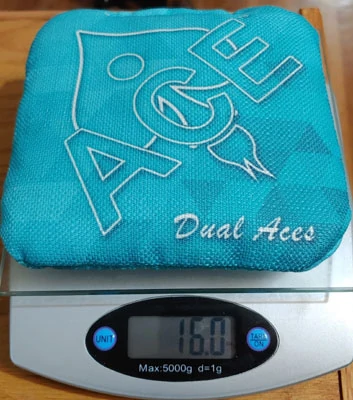 In talking with other that have thrown the bags, they have been compared to an All-Slide but not as thick. They are super fast bag that is very hole friendly. So if you prefer the fast bags and are looking to get one in your hands that is priced right, in my opinion, then the Dual Aces by CornholeAce is the bag for you.
Be sure to check out our other First Impression articles and hit up our Pro Shop