Unfortunately, as of 11/2021, these bags are no longer in production
About a week ago I received this massive box of bags from West Georgia Cornhole. Looks like they sent me a set of every bag they make and all of them are printed with our logo. Great looking variety of bags that not too many people even know exist. So we are going to try to shed a little light on each bag and discuss a little detail about them such as the weight and their speed ratings and what that means for you, the consumer.
Let's start off by telling you a little about West Georgia Cornhole. They are the best in the cornhole business and supply many people with their quality products such as boards, score towers, bags and a whole lot of other stuff. They even sell non-cornhole related merchandise like custom engraved tumblers, wooden signs, backyard games like giant Jenga and household goods. Now, onto the bags…..

West Georgia Cornhole Bags
The bag series we are looking at today are as follows, F-35, Maverick, Bomber, Cosmonaut, Hellfire, Stealth Bomber, Air Force One and Apache. Each bag features a nice fitting logo to match its name.
West Georgia Cornhole Bag Speeds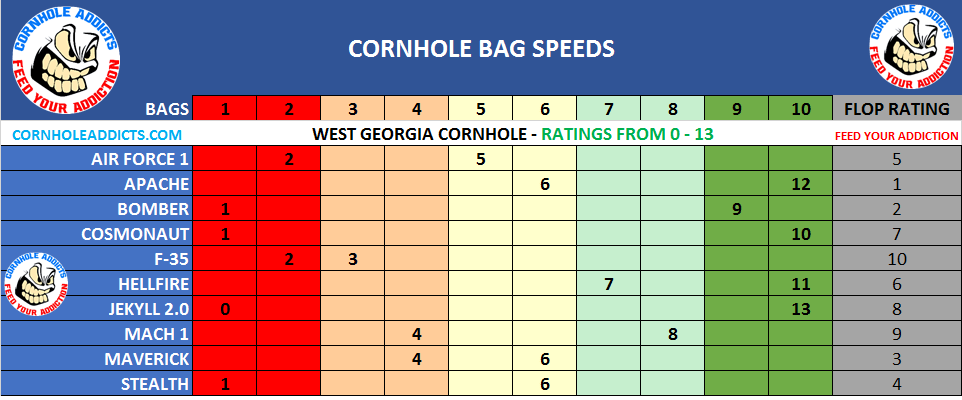 F-35 bag is rated at a 2 and 3 but has a flex rating of 10 which makes this a slower bag but controllable and minimal kick when it lands. Its a great bag for someone with a low, line drive throw. Also great for a strategically placed blocker and for help with keeping bags on the board. We weighed the F-35 bag in at 16oz. Click here to purchase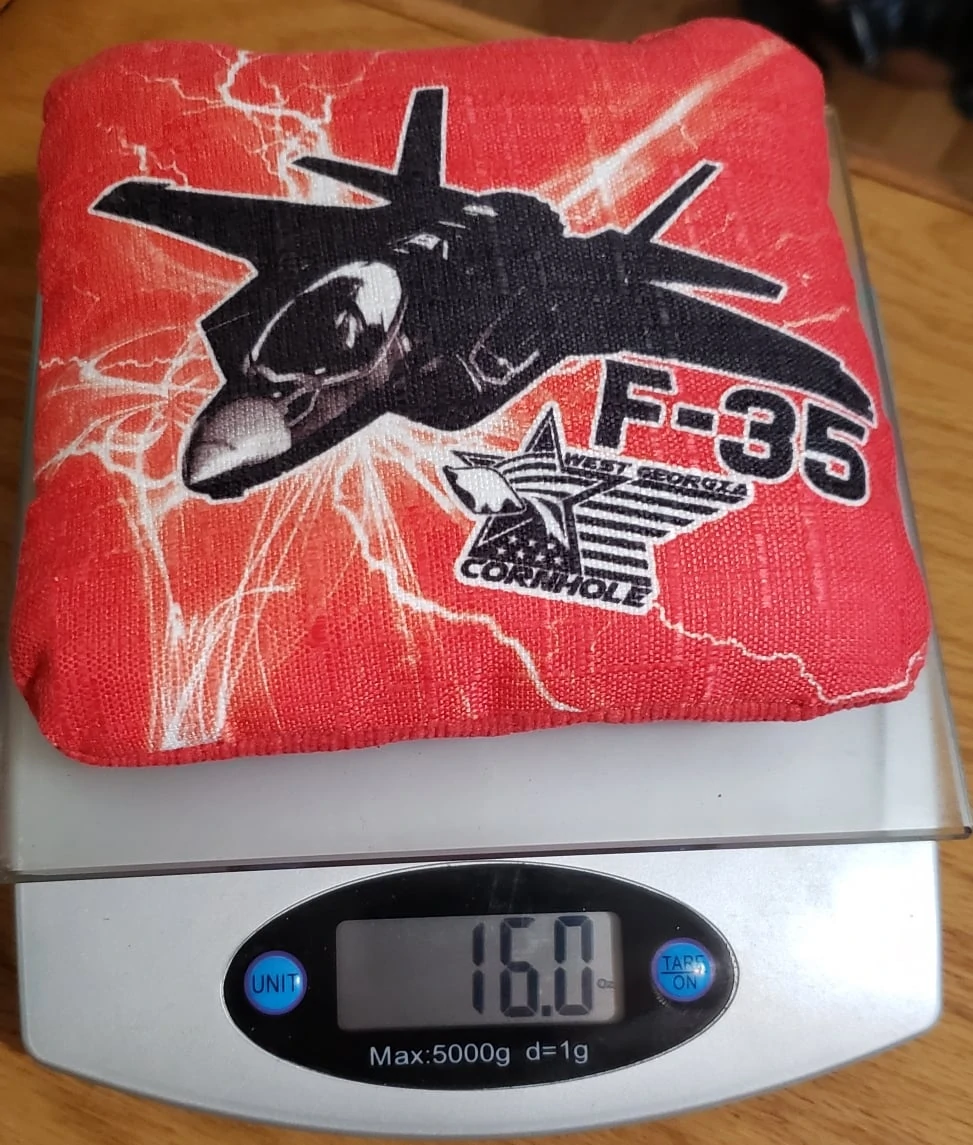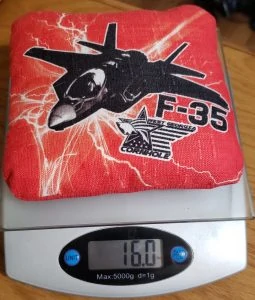 [aiovg_video id=52477]
---
Maverick bag is rated at 4 and 6 with a flex rating of 3. We weighed the Maverick bag in at 15.9oz. This bag can be summed up in one word, consistency! Both sides of this bag hovers right around the middle of the speed scale making each side slightly faster/slower than the other. Consistency and accuracy is what the Maverick is all about.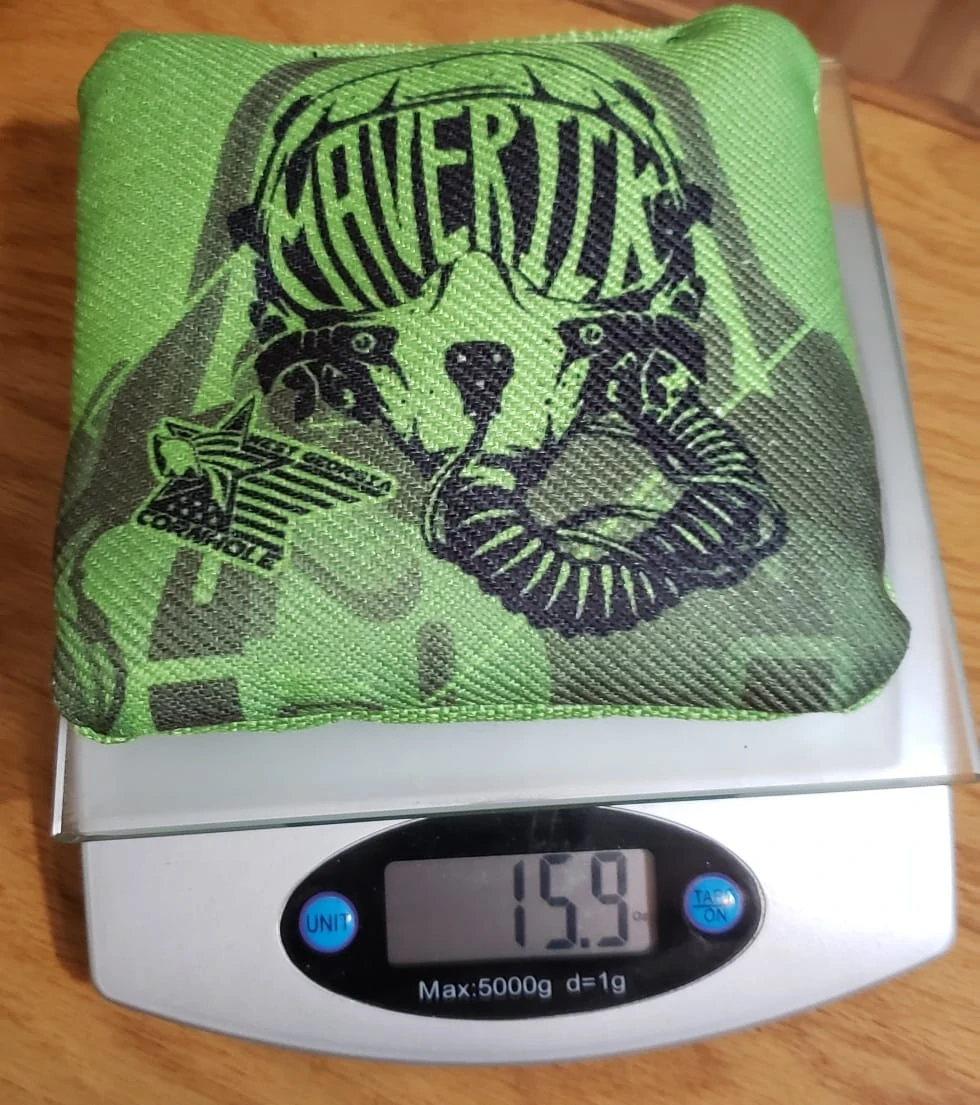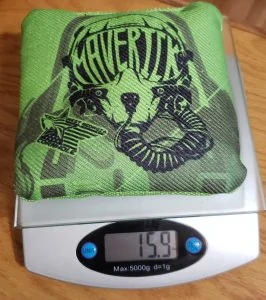 [aiovg_video id=47873]
---
Bomber bag is rated at 1 and 9 with a flex rating of 2. We weighed this bag in at 16oz. This bag is a classic stick and slide. The Bomber has suede on one side for hard stops and blocks and a fast poly twill on the other side that is comparable to duck canvas used on many old fashioned bags. Because of its vast range of speed, it is packed with all sorts of strategy and maneuverability. The Bomber Bags are simply a classic.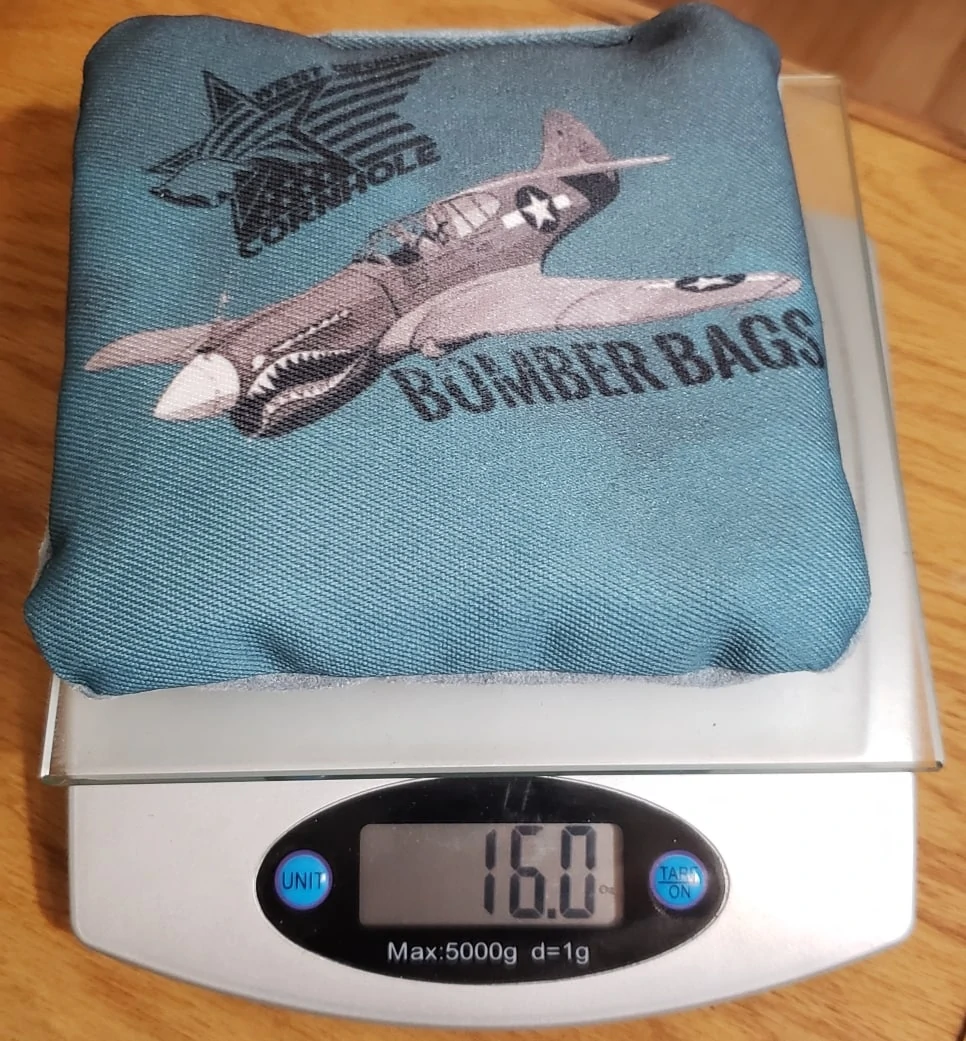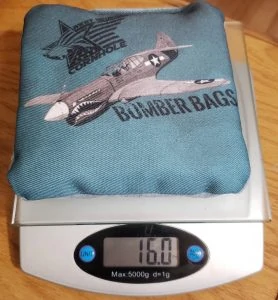 [aiovg_video id=52481]
---
Cosmonaut bag has a rating of 1 and 10 with a flex rating of 7. If you are looking for a bag with variation and a great, broke-in feel right out of the box then look no further than the cosmonaut.  Combine the traditional speeds of the standard stick and slide bags with an insanely comfortable feel, and you have yourself the cosmonaut. This bag weighed in at a consistent 15.9oz. Click here to purchase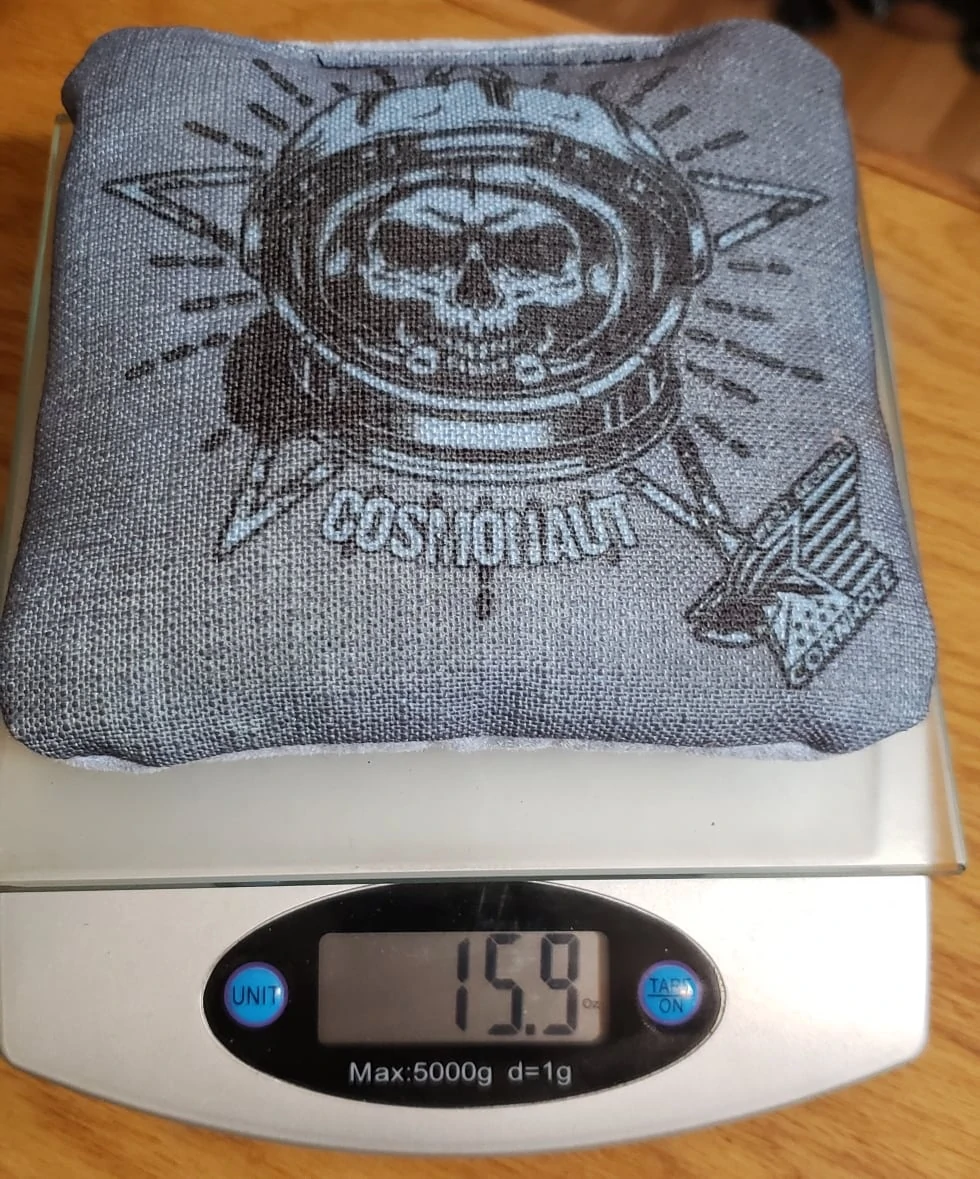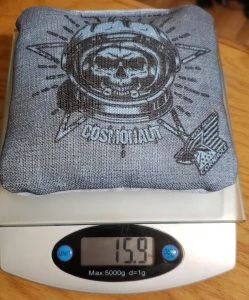 [aiovg_video id=52478]
---
Hellfire bag rating is at 7 and 11 with a flex rating of 6. This bag brings a unique option of fast control to the table. A dual sided fast/faster bag, the Hellfire will be a favorite go to bag similar to the All-Slide. Many think this is the fastest bag in the series but its not. These bags weighed in at 16oz.
Click here to purchase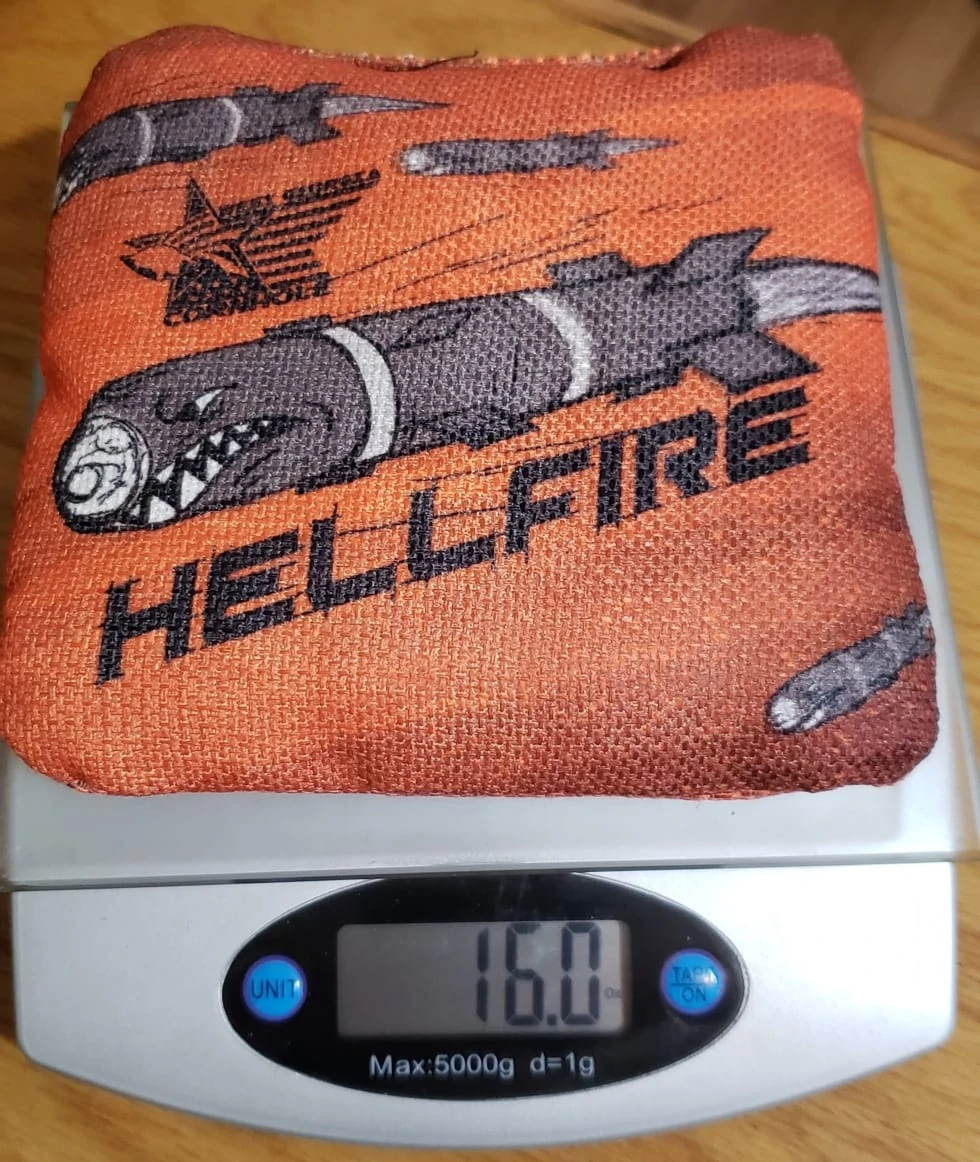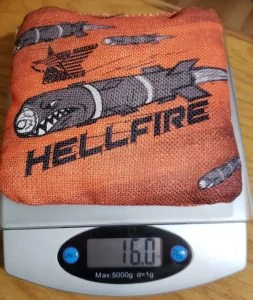 [aiovg_video id=52482]
---
Stealth Bomber bags rating falls in at a 1 and 6 with flex rating of a 4. The Stealth bomber bag has a synthetic fabric on one side and a suede on the other for complete control during gameplay. These bags are most similar to a Slide-Rite and perfect for those who seek a blocking bag with a medium fast side for sliding. These bags weighed in at 15.9oz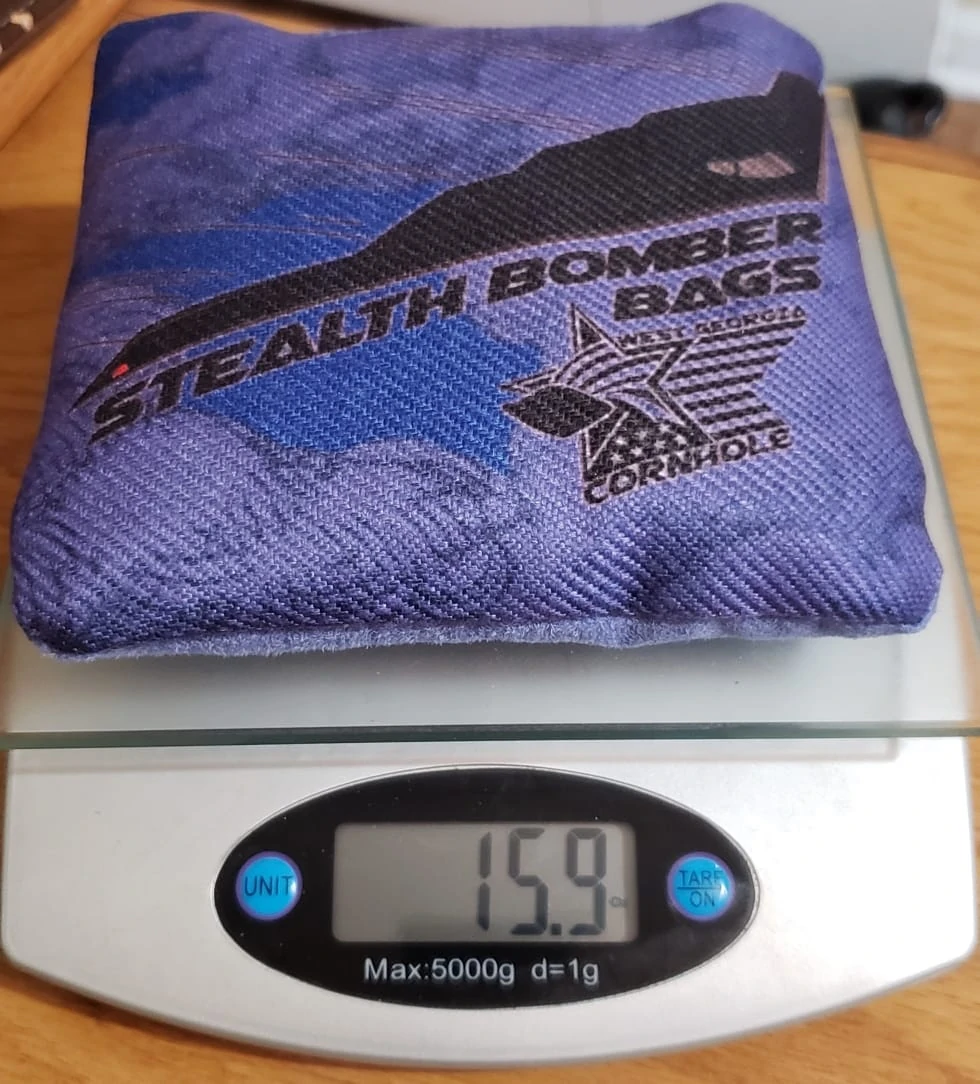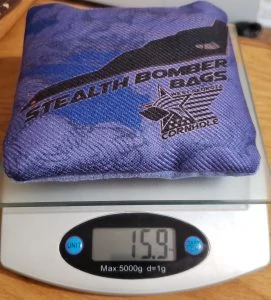 [aiovg_video id=47871]
---
Air Force One bags are rated at a 2 and a 5 with a flex rating of 5. Out of all the bags, these are the most useful in the WGC lineup. It has some of the best control capabilities of any ACL approved toss bags in the game, and because of that, it is one of the best sellers on the market. As this bag breaks in, it becomes more malleable which means it will have less kick. This bag weighed in at 16oz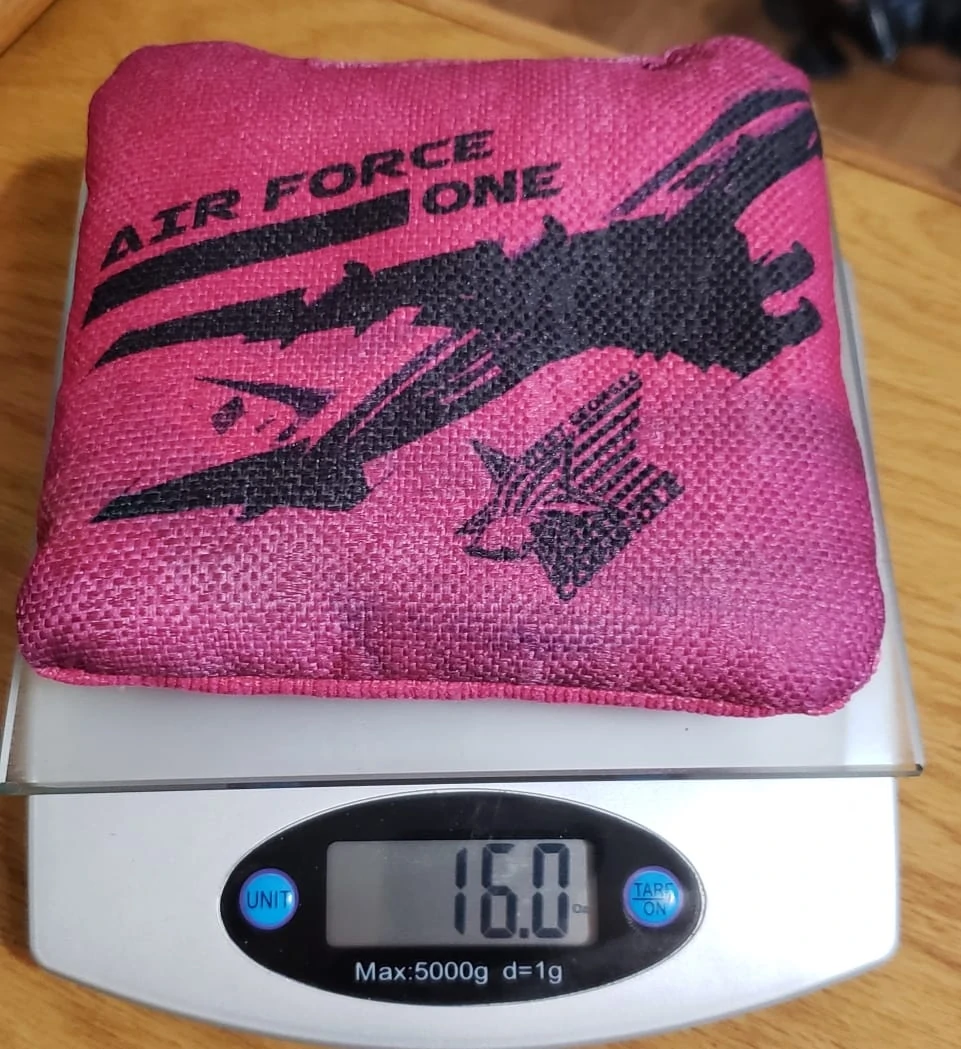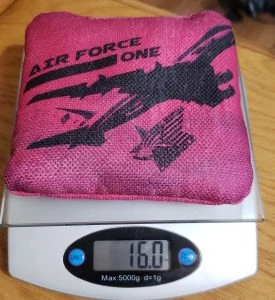 [aiovg_video id=52479]
---
Apache bags have a rating of 6 and 12 and flex rating of 1. The Apache is built for speed and has lots of it. The unique feel of the Apache bags makes them great for very consistent throwing, and the overall grip-ability of the bags make perfect for throwing airmail shots. The Apache's are best suited for throwing bags that slide through blocks and pushing your own bags when setup correctly. Because of the high levels of speed, these bags may take some getting used to if you're not the sharpest shooter. Bags weighed in at 16oz. Click here to purchase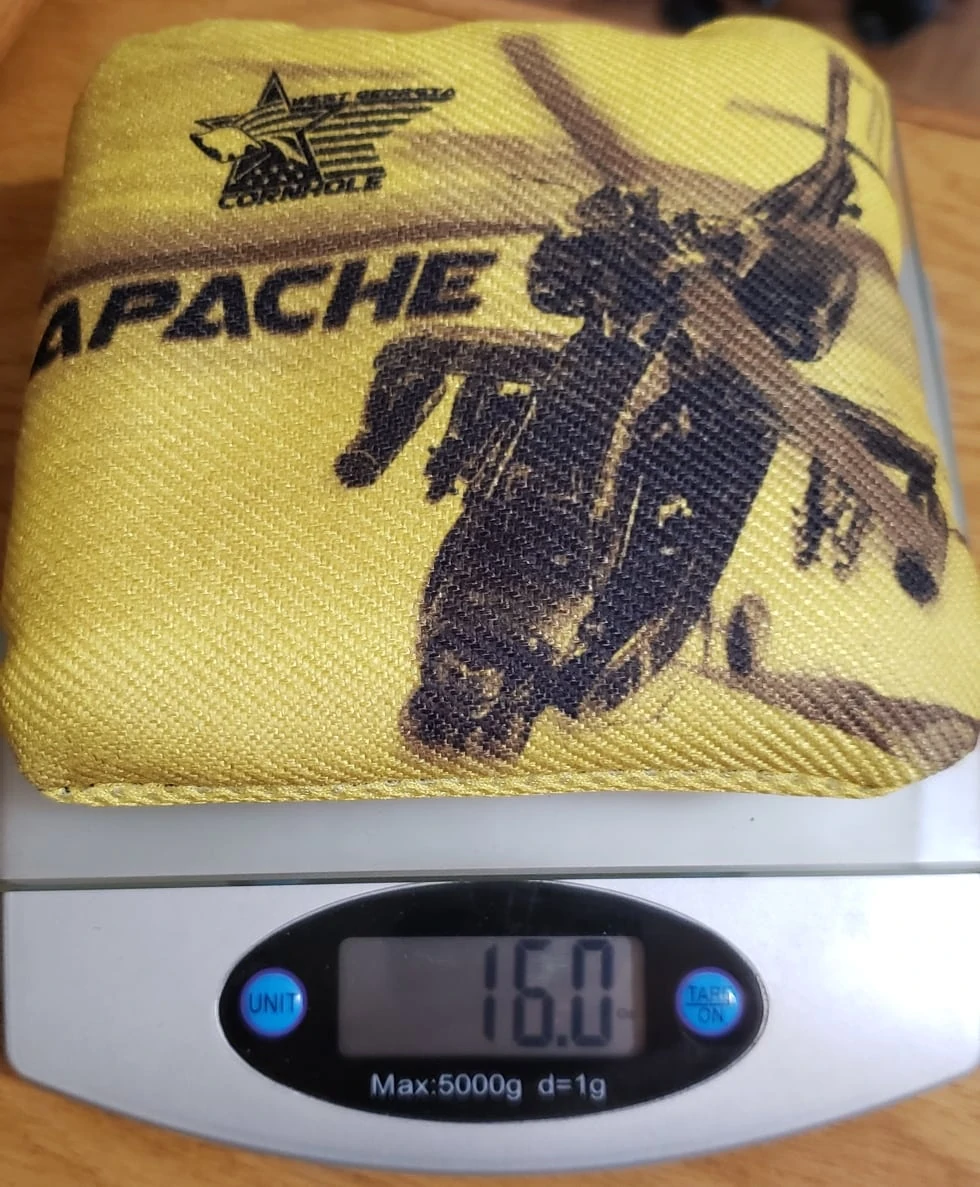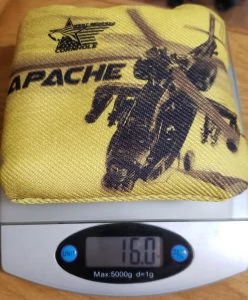 [aiovg_video id=52480]
---
If you would like to purchase any of the West Georgia Cornhole bags seen in this post, click here. For bags not listed on our website, send me a message. I have not had the time to add them all but plan to get it done in the next couple weeks.