When faced with frustrating circumstances, there are generally three different ways people handle them. They either throw their hands up in the air and give up, keep on living with the same upsetting set of circumstances day in and day out, or they do what Baggin Broads founder and CEO Whitney Ingram did — find a way to rectify the problem!
After just playing cornhole for fun in her backyard a few years ago with her husband Bobby, Whitney followed her husband into the competitive end of the game this past fall. What she found was disheartening. There were only a few women playing at the competitive level, and the ones that were playing in the local blind draws she attended were getting looks of disappointment when their male counterparts drew one of them as a partner.
These events sent Whitney on a quest to learn more about the game of cornhole, and more specifically, women and cornhole. She struggled to find much information, if any, but rather than accept this as the status quo, Whitney set out to make a change. Baggin Broads was born and along with the help of ten other consultants, Whitney is out to change the course of women's cornhole.
Baggin Broads are here to help
And ladies, the Baggin Broads don't care if you are a backyard player, intermediate player, competitive or pro, they are here to help you with your game in whatever way they can! Whitney has established a wonderful group of ten female consultants from across the country who are as passionate about women's cornhole as she is! Whitney put a lot of thought into who she has on her consultant team.
"We have consultants from California, New Hampshire, Illinois, Arkansas, and Wyoming, just to name a few, and they are of varying skill levels, including one pro, Sheila Roy," Whitney said. "We want to be able help every lady who is throwing, at whatever level that is."
"A lot of ladies got into the game through a guy in their life, whether it be a boyfriend, husband, or even their father. What about the young lady who wants to get into the game on her own? We Baggin Broads want to be there to help every lady who wants to play the game!"
And exactly how are they going to do that?
One way is through podcasts. The first taping will begin April 19, and they hope to air it a few days later. Whitney's goal is to air a podcast once a week, with different guests each week and her consultants doing the hosting. They also hope to have a product line released in the near future.
Whitney is thankful for the people at Cornhole Central who are hosting their site for the time being, but it shouldn't be long until they are completely on their own, even with the short time they have been around. Baggin Broads has only been on the scene for about two weeks, but the response has been overwhelming.
"The positive response has been crazy. We are getting so much wonderful feedback, and it is very encouraging!"
Personally, after having discussions with Whitney and all but three of her consultants, I can attest to their love of cornhole, and their desire to help other ladies, no matter the level they are currently at! You are going to want to give them a try!
"We saw a need, and we wanted to make a difference." This one statement from Baggin Broads founder, Whitney sums it all up, and I for one, have faith they are going to do exactly that! In fact, I believe they already are!These ladies mean business!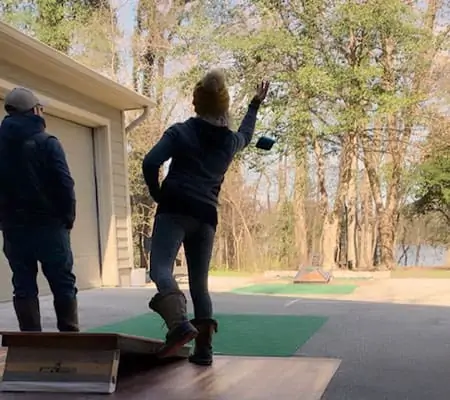 MEET THE TEAM OF BAGGIN BROADS
The ladies of Baggin Broads took some time to answer questions, so that we could get to know them a little better. Here are their answers to some of those questions, but when asked who the best player was among them, the general consensus is that it was still up in the air since they haven't played each other. Since Sheila is a pro, they leaned toward her, but I am looking forward to, as Kristin put it, a "Baggin Broads Queen of Cornhole Showdown"! It would be a great one!!
Whitney Ingram (Founder/CEO), Maryland
Ice Cream, chocolate or vanilla – Not a single flavor girl. Throw in some brownie chunks or hot fudge, and I will grab my spoon!
Beach or Mountain Cabin – Definitely a beach person. I love to swim and surf
Female player who inspires me – Any lady who can surpass her fear and intimidation when starting out, and continue to practice and improve, that's who inspires me!
Amanda Lea Kowalski, Washington
Favorite sport other than cornhole – Rodeo is near and dear to me, then football, "GO BEARS"
Beach or Cabin in the Mountains – Either, but my heart is in the mountains
Ice Cream, chocolate or vanilla – They are both boring, add some fudge or caramel!
Brooke Newvahner, Colorado
Beach or Cabin in the Mountains – Cabin for sure! Give me a book, woodland, nature and no cell service any day!
Favorite Sport other than Cornhole – Does running count? I'm not a very sporty gal.
Female Player who Inspired Me – Tough one, but I would say Stacia Pugh. She is one of the first woman players I saw on TV.
Candy Laflam, Massachusetts
Female player who has inspired me – Sarah Cassidy, Seemed like such an underdog but came out of nowhere with bags 'a blazin! She also seems very humble and down to earth
Favorite Sport other than Cornhole – I play slow pitch softball, very competitive by genetics.
Ice Cream, chocolate or vanilla – Chocolate for sure
Courtney Brazeal, Arkansas
Favorite sport other than cornhole – Tie between volleyball and softball
Favorite female Cornhole player – Lynda Oglesby, humble, sweet and all around amazing
Beach or Cabin in the Mountains – tough choice, but if there's a lake to fish, cabin for sure
Kristin Keiser, Oregon
Beach or Cabin in the Mountains – Beach for sure – Sun's out, Fun's out!
Favorite Sport other than Cornhole – Women's soccer, played at an elite level most of my life and they have a passion and heart for the sport like none other.
Ice Cream, Vanilla or Chocolate – Pink Peppermint, I swear I saw that option. 🙂
McKell Littlefield, Wyoming
Favorite sport other than cornhole – Gosh I love to dance, and have found a love for paddle boarding and I love a good workout session, if that counts as a sport?
Female cornhole player who inspires you – I am pretty new to this, but the ladies at Baggin Broads really inspire me! I hope we inspire other women the way they inspire me!
Ice Cream, chocolate or vanilla – Chocolate, but my favorite is Rocky Road
Michelle Thompson, California
Favorite Sport other than cornhole – I've never been very athletic or played sports, but I love yoga!
Beach or Cabin in the Mountains – Beach, every day…all day!
Female player who inspires me the most – I'm not a very sophisticated player, so I really don't know too many!
Nicole Pratt, Ohio
Female player who inspires you – Dawn Rogers, she never gives up and sets the example that cornhole is more than cornhole, it is family and we have each other's back!
Beach or Cabin in the mountains – Beach
Favorite Sport other than cornhole – Gymnastics
Sheila Roy, New Hampshire
Beach or Mountain Cabin – I love either as long as there is a campfire and great people!
Favorite Sport other than cornhole – Football is my favorite. I love the teamwork aspect of it, everyone working together to be successful.
Female player who inspires me most – Anyone who can balance great play with a great attitude, regardless of gender
Teri Tangman, Illinois
Favorite sport other than cornhole – Just cornhole – my husband and I are playing all the time or looking for a tournament to play in. We travel all over to play
Beach or Cabin in the mountains – Both have pros and cons, just need to have some boards around
Female player who inspires you – Courtney Coy – great young lady and a beast on the boards. It's on my bucket list to beat her, hasn't happened yet.
Definitely go check out the Baggin Broads on their Facebook Page and give them a LIKE. And then head over to our Pro Shop for all your cornhole related needs. There are already quite a few women pro players. Have a look here to Meet All The ACL Pros