I first received these bags back in February, and right off the bat they felt like they were already broken in and felt super loose! The Ace All In Cornhole Bags have a fast-slick side and a medium fast side that can still stick a good block. They are extremely hole friendly and feature rounded corners!
Ace All In Cornhole Bag Speed and Weight
On the speed scale, the fast side of the bag, which is a softer diamond-twill, has a speed rating of 9. While the medium fast side, which is a poly based solid twill surface, has a speed rating of 6. These hole-seeking versatile bags are great in any weather and are sure to be your go-to, especially if you're up against another loose bag, such as a game changer!
The Ace All In Cornhole Bags weighed in at 15.95oz. I have to say that the bags themselves definitely do not feel like a full bag, but the weight says otherwise! So I can only chalk it up to the material being the key to the loose feeling.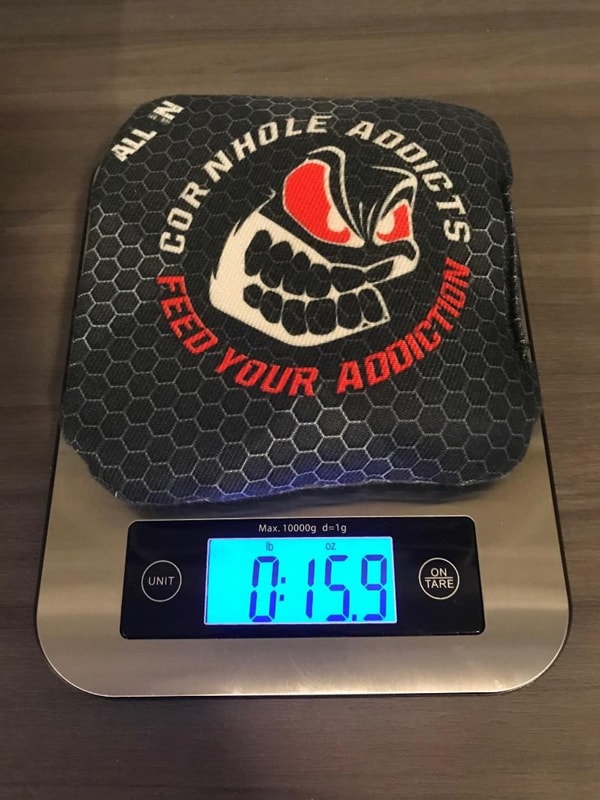 The Ace All In Cornhole Bags are great for a player who likes a faster bag, but will slow down a bit after being broken in. They are prone to snags and are recommended for indoor play on smooth boards, so be sure to check the playing surfaces for rough spots. These bags do come with a 30 day manufacture warranty for their seams, they come double stitched for durability!
Ace All In Cornhole Bag performance thoughts:
During my virtual play, I found these bags to be fast, had very little kick, and if they even got near the hole, the looseness would allow them to just drop right in! I guess that's why they are named ALL IN! I was able to throw a blocker with the slower side, but still had the ability to push the bag into the hole. The bags are not ACL approved for this current 2019/20 season but we are certain they will be for next! Overall, right out of the box, this is a great bag that gets ever better when broken in. Ideal for competitive to pro players but an all around good bag for anyone.
Checkout this comparison video vs the GameChangers
Grab your own set of Ace All In Cornhole Bags today!
Logo pictured on bags in images in article is no longer available. All bags will have our colored logo as seen above.
Ace Cornhole Gear